Digital and brand designers need to start working more closely together. Why? Because if they don't, they will continue to deliver a second-rate digital brand experience to their customers.
Have you ever been given a logo that won't work on a website or app? If so you are not alone. A recent project I worked on highlighted an all too common flaw in the way brands are designed.
Picture this: A friend of mine asks me to design and build an online store for a friend's clothing company.
I know. The first rule of business: Don't work for your friends.
Anyway, I said yes.
So I would be doing the branding too right? Wrong. That would be the first time I've worked on a project where I've not been doing the brand design as well as the digital, so it's very much out of my "control freak" comfort zone.
I asked to have all the branding details sent over to me – logo, guidelines, colours, fonts – to see where we're at design wise.
But the logo isn't ready, and there are no brand guidelines (and never will be).
That makes life a little trickier but okay. I'll take a look at the logo design the client has already received to see the direction they're going in and try to create some branding guidelines from there? I'm sent the three most recent logo ideas.
My heart sinks. Because not one of them will work on a website. The logo is oddly shaped, intricately lettered and using multiple fonts of vastly varying sizes. There is also some kind of odd gold sheen applied across it. Think, Steampunk video game logo.
And herein lies the problem.
Digital and brand designers need to start working more closely together. Why? Because if they don't they will continue to deliver a second-rate digital brand experience to their customers.
So What Does Digital Thinking Mean?
A look through any brand and logo inspiration site and (god forbid) Pinterest shows some beautifully designed projects ranging from hand-drawn lettering logos to full-blown branding exercises complete with new office mugs, but on closer inspection, few of these brands or logos will work digitally.
There is nothing more disappointing than a expertly crafted and thought through site with a gorgeous new logo slapped in the top left hand corner with no thought for how the two will work together, how the logo will perform at different screen sizes and on various devices, whether the alignment of the logo reflects the alignment of the site, whether it is necessary for the full name and logo mark to be present or if just one would work better.
Digital Thinking for Brand Design
Clever design thinking is applied to creating stunning, agile and responsive sites and platforms every day. It's time to take that design thinking and apply it to how a brand or identity could work digitally. For instance:
A Simplified Digital Version of the Logo
A logo which is quite complex with some smaller elements can really lose impact when reduced for use on a website or social media. However by removing elements such as strap-lines or more intricate design details a simplified digital friendly identity can be created.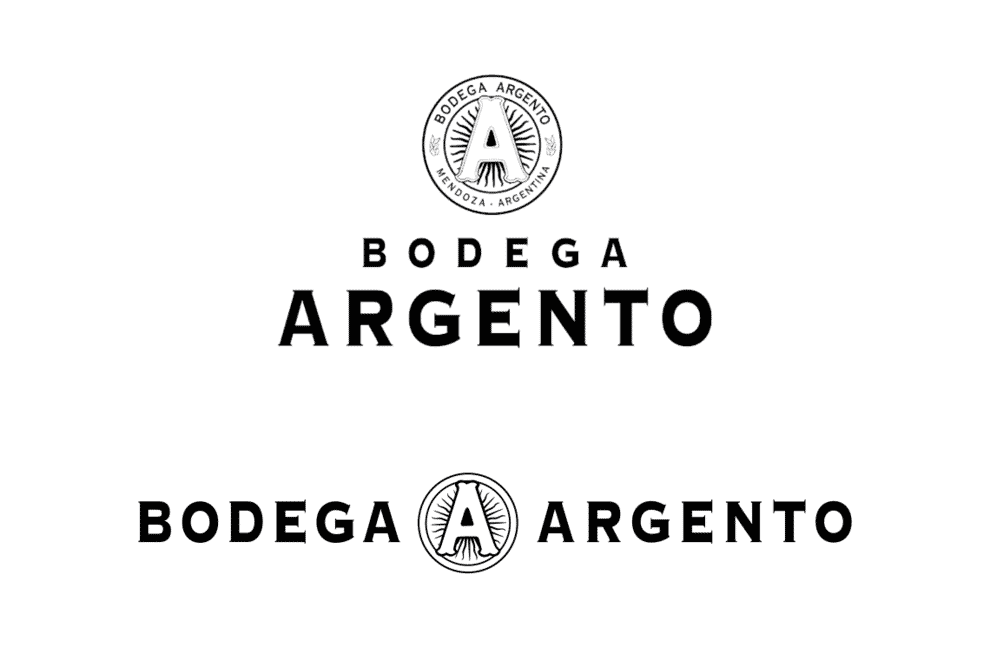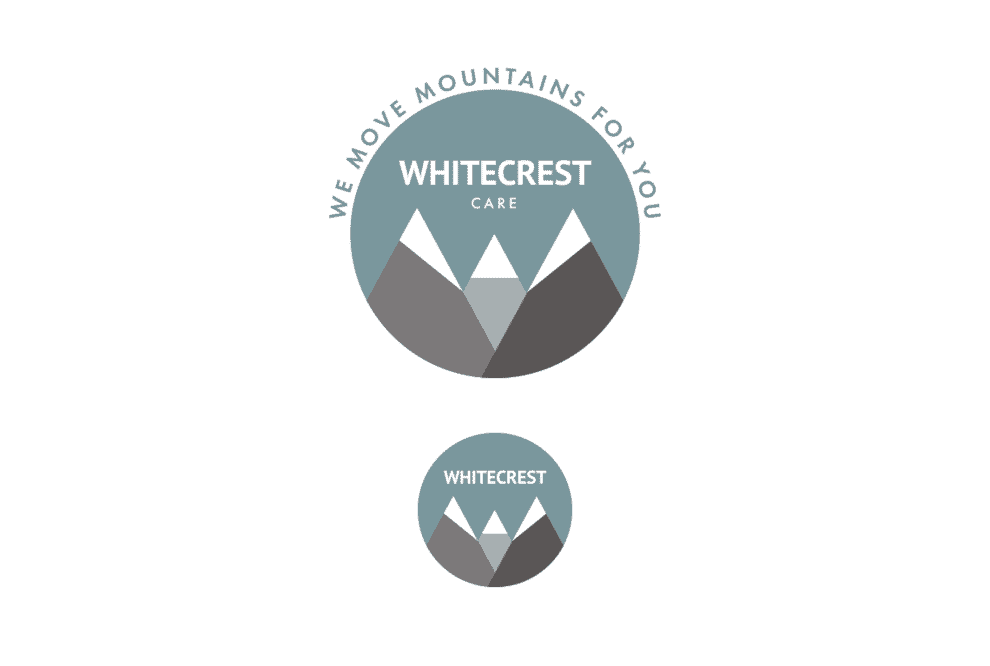 A Shape or Letter as a Digital Identity
Hand-lettered logos are beautiful but don't always work digitally, subtle line weights can be lost and swirls become awkward when squished for use on a site or app. An alternative would be to create a separate digital identity using a flourish or initial/s from the full print logo.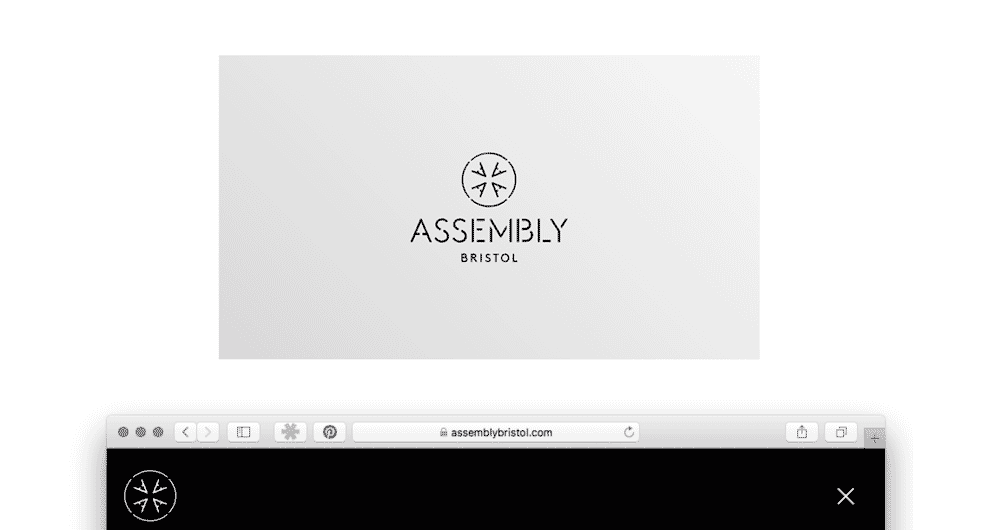 Replacing a Full Logo With a Logo Mark
Nike does it, Mailchimp does it. And it looks amazing. Dropping logotype digitally and replacing it with a visual representation in the form of a mark can make for an edgy alternative.

Making a Logo Responsive
Like responsive sites, a responsive logo strips out unnecessary information and offers up simplified versions of a logo depending on device or screen size. For a great example see the recent Typeform rebrand.

The Digital First Approach.
Like mobile first site design but for branding. Designing a brand purely for digital initially before moving on to merchandise and print can lead to thinking outside the box and could inevitably create a more exciting and consistent offering across the board. Audi has taken this a step further and have even let their recent digital-first brand refresh influence in-car interface designs.
One of the details I first noticed when I test drove my Audi Q2 was the elegant and simple design of the car's digital interface, once I learnt of Audi's digital-first approach this made perfect sense. They have published the design guidelines for the rebrand freely accessible online.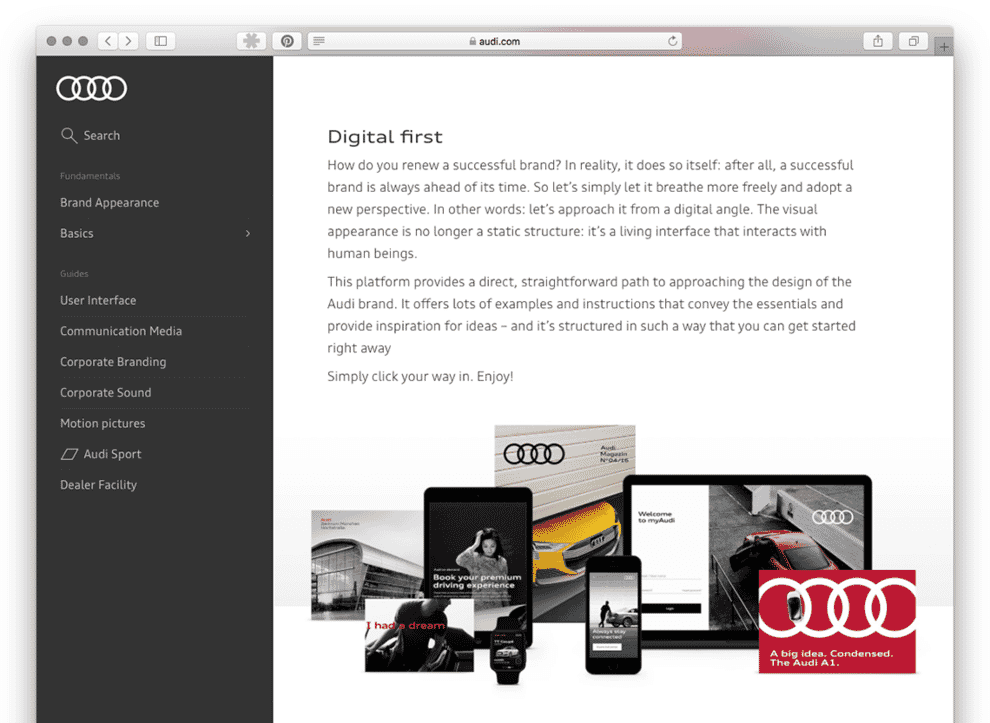 Logo First Web Design
Many digital designers practice content first design when creating a site or app. They believe that content is as much a part of designing for the web as fonts, colours and layout. That principle should extend to identity design that seamlessly fits into all the other elements of the site, rather than something perched incongruously at the top of the site.
Mike Kus demonstrates this seamlessly on his designs for Predatar with the logo mark and logotype enhancing every single page layout including individual blog post pages.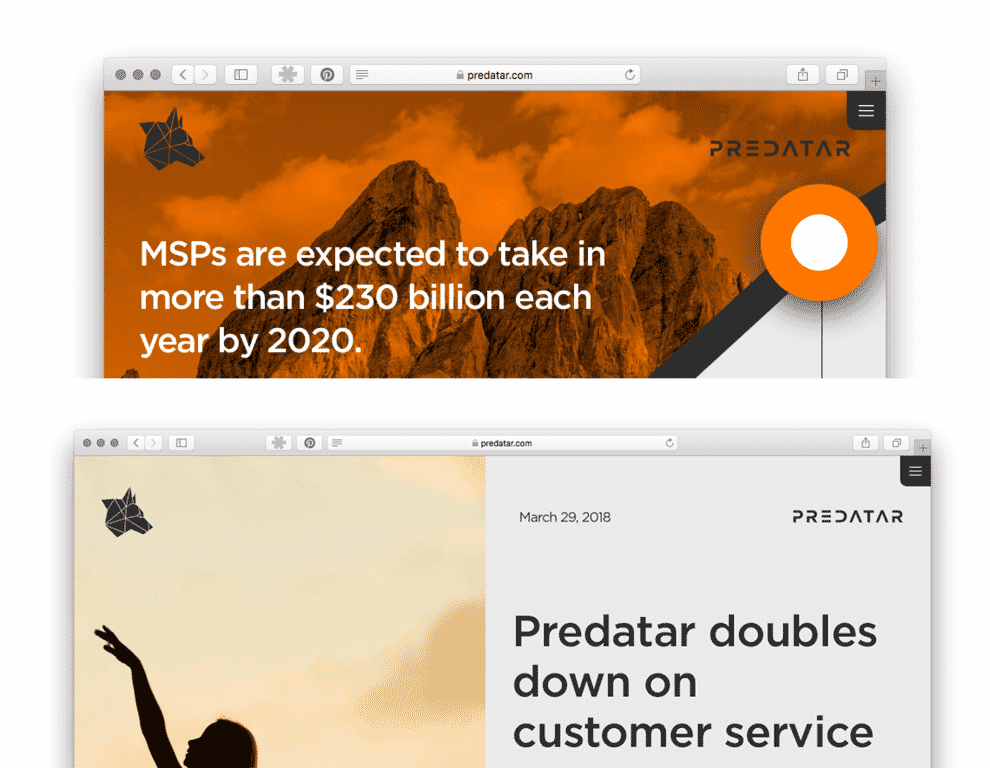 Creating Strong Brands Through Digital Identity Design
Companies are investing more and more into their digital offering while at the same time realising the importance of having a unique and impactful brand. However there currently still seems to be some disparity between knowing this and it being successfully executed.
In a previous life as a Senior Design Exec for a large design agency, I was encouraged to work closely with the development team from the conception of a new website. It was seen to benefit everybody, the developers could understand our design decisions, and we could understand their processes. And it worked.
Similarly, perhaps digital designers need to work more closely with brand designers to create agile design practices to enable identities to successfully coexist alongside all the other integral elements of a site, app or platform. It's time to usher in a new era for digital branding where logos and brands jump off the screen as well as the page.
Liz Elcoate is a UK based designer specialising in branding for the digital world. She has worked on campaigns for several high profile organisations including Great Ormond Street Hospital, The Brit School and the NSPCC.
Together with her co-host Sean Johnson she was a finalist in the Podcast of the Year category at the Net Awards for their podcast The Freelance Web.
She has been a guest on many podcasts both here and across the pond such as Unfinished Business, Being Freelance and The East Wing. Liz also writes regularly on the business of design and freelancing and was a contributing author to the book "The Business of Web Design".