Despite the proven business value of design, organizations continually underestimate how it can help, reducing it to visual aesthetics. This article makes a case for the value of design for your organization.
If the current trend continues, this article will soon be redundant. For 27 years, I have struggled to get organizations to take design seriously, but that has changed dramatically in recent years. More and more organizations have woken up to the value of design, in part thanks to buzzwords like design thinking and heavy investment in design by the likes of Apple, IBM, Disney, and even the UK Government.
However, if your organization has yet to embrace the value of design or you have doubts, this post will hopefully be helpful.
Let us begin by defining what we mean by design.
What is Design?
The number one reason that management undervalues the impact design can have on their businesses is that they have a very narrow view of design.
When most people think of design, they are thinking of visual design. They are thinking primarily about aesthetics.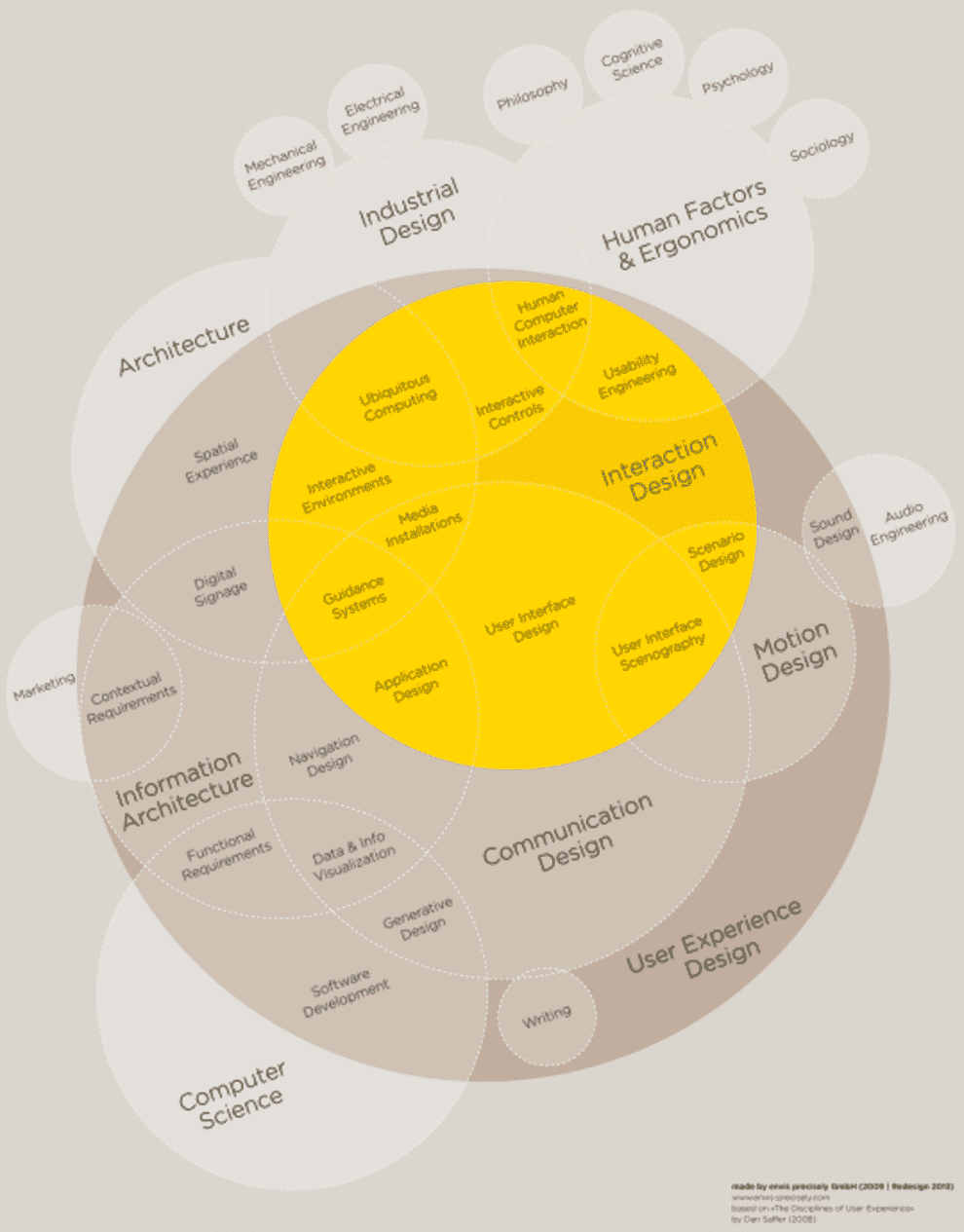 If they put a little more thought into it, they might also think about functional design such as architecture, furniture design, or user interface design.
However, that is usually the limit of their thinking. That is, of course, entirely understandable. The examples above are the kind of design you can see every day. However, they fail to grasp the true breadth of the discipline.
It is a problem made worse by a lack of clear definition. I define design as "finding practical solutions to real-world business or personal problems." That might involve visual design, but it could involve designing systems, processes, or organizational structures. Whatever it takes to address the challenge.
In short, design comes in many forms even in a discipline as narrow as digital design. It can range from user interface design all the way to service design. Not all design is visual.
Each of these disciplines focuses on solving different kinds of business or customer challenges, but they do share a common ideology, often referred to as design thinking.
What Is Involved in Design Thinking?
In some ways, design thinking is just a buzzword. However, it does have value as a way of defining the shared approach that can be found in almost all disciplines of design. It is an approach that is as applicable in the boardroom as it is in Figma. That is because it is an approach designed for finding solutions to complex problems.
As with design, there is no definitive definition of design thinking. However, it is an approach built around experimentation, testing, iteration, and collaboration.
It seeks to understand through research the problem it aims to solve and the audience it needs to solve it for.
It then creates as many possible solutions as is feasible by bringing together stakeholders and experts from across the organization to explore approaches.
Then, through prototyping, testing, and iteration it seeks to narrow down the options and develop a solution that can be taken to market. This is often referred to as a minimum viable product (MVP).
Finally, this MVP is refined over time based on customer feedback as well as direct observation.
In essence design thinking is:
Data and testing driven.
Cross functional and collaborative.
Continually iterating.
Relentlessly focused on customer needs.
Put another way, design thinking rejects much of traditional project management working practices that are internally driven, use linear delivery mechanisms and work within organizational silos.
It is this change in mindset that delivers the business value of design.
The Business Value of Design by the Numbers
It has long been known there is a strong relationship between organization success and their investment in design. Back in the early 2000s, the Design Management Institute began analyzing the performance of US companies committed to design as a business strategy.
In 2015 they reported that design-led companies outperformed other comparable companies by 211% when it came to providing increases in shareholder value.
Similar observations were made in a 2018 report by McKinsey who demonstrated a more modest 56% higher stakeholder value in a 5 year period.
In the same report, McKinsey also demonstrated a 32% improvement in revenue when compared to the average between 2013 and 2018.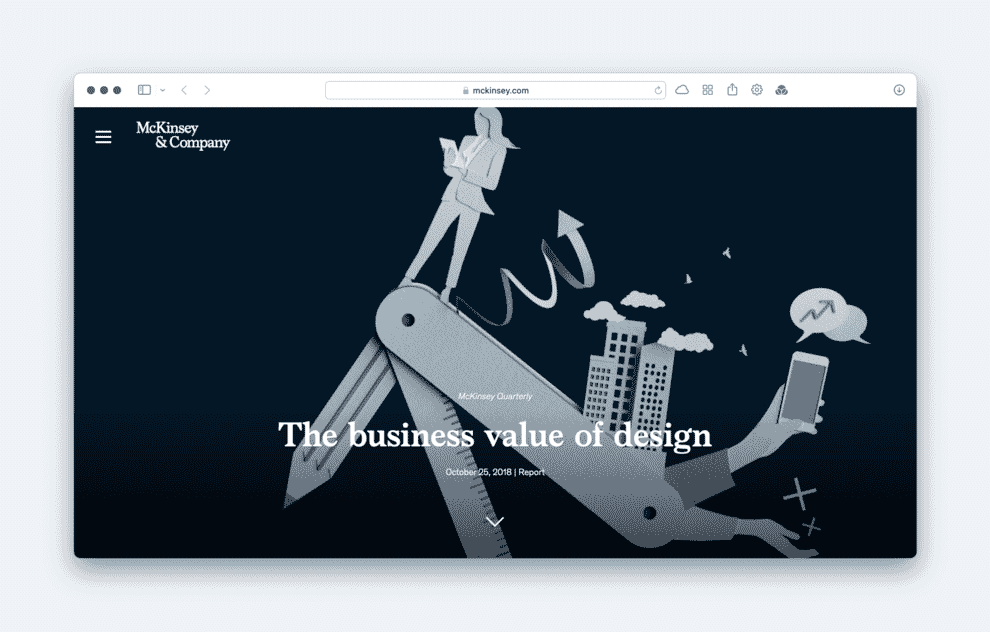 In short, the business value of design is both improved shareholder returns and increased revenue. But why is that?
Why Does Design Provide Business Value?
Although the numbers are clear, exactly how design impacts organizational success is more nuanced. That is in part because design does not bring clear success in one single area, but instead generates more subtle value across all parts of the organization.
Improvements in revenue through areas like marketing, sales, and customer service are easier to identify. Design improves the customer experience and so increases:
customer satisfaction,
repeat purchasing,
higher customer lifetime value,
word of mouth recommendation,
and improved brand reputation.
However, there are many other areas design provides business value that is not as obvious, but just as important in improving overall shareholder value. Areas that provide competitive advantage and provide cost-savings. For example, design thinking can allow a business to:
lower the cost of sale,
reduce customer support costs,
get to market faster,
prioritize business initiatives that provide the most value,
encourage product innovations,
lower product capital and operational costs.
That is because design thinking leverages the flexibility and data of digital channels in a way that traditional business strategy fails to do. With so much of business operations now driven by digital, adopting working methodologies that are digital-first makes a lot more sense.
Not that every company that endeavors to embrace the business value of design succeed. That is because most underestimate just how far-reaching the changes required are.
How to Begin Nurturing the Business Value of Design
Many organizations have design teams, but that does not mean they are leveraging the business value of design to its full.
There are many reasons for this, but there are three particularly common factors.
First, not all designers are experienced or comfortable working beyond visual design. In my experience most design teams contain user interface designers who simply are not trained in broader design thinking.
Second, even if these teams have designers who have the capability to provide broader business value, they are often prevented from doing so. That is because of strict departmental silos and the fact that they are often low in the organizational pecking order. These factors restricts their remit. The organizational culture discourages their broader involvement.
Finally, most design teams are not resourced to a level at which they have the capability to work on larger strategy pieces. They are so bogged down in business as usual visual design that they rarely get the opportunity to demonstrate their broader abilities.
Overcoming these issues of company structure, culture, and perceptions of design is not easy and certainly requires more than a few lines at the end of a relatively short blog post.
However, a good starting point would be to nurture the designers you have. Make them feel that it is safe to express ideas and treat them as peers with value to add, rather than a resource that exists to implement the ideas of others.