Providing C-Suite Digital training has become business critical for many organisations. Unfortunately, few realise that it is necessary. When it does happen it often focuses on the wrong things.
Has your C-Suite ever had any formal training around digital? If not, you are far from alone. Few leadership teams I encounter have. That despite the fact almost none of them have any real experience in digital. That is scary considering nearly all organisations are reliant on digital for success.
The Problem with C-Suite Digital Training
What frustrates me the most is that even when C-Suites do get digital training, it tends to miss the mark falling into one of two categories.
One type of training is typically delivered by some big business consultancy such as PWC or Gartners. It usually focuses on Digital Transformation and the opportunities or threats it presents. Although this is useful and even inspiring, it doesn't help much with implementation. It also rarely addresses the organisational challenges that prevent digital flourishing.
The other type of training is often delivered by in-house digital staff. That tends to focus on the tactical level which is usually not relevant to the C-Suite. Worse still, we bombard management with terminology that does not resonate and they do not understand.
My Approach to C-Suite Digital Training
I don't claim to have the perfect approach. However, I do seem to have an approach that resonates with management without avoiding the tricky challenges.
Most of all, I have learned to do so while limiting terms such as "digital transformation", "agile", "design thinking" and even " user experience".
I do talk about these concepts, but only after explaining what they are in a language management can understand. Because in truth most of these ideas are repackaging of principles that have existed in the business world for a long time.
8 Things to Cover in C-Suite Digital Training
So what do I cover in my C-Suite digital training? I try always to cover these eight areas.
What is Digital and Digital Transformation
I start from the absolute basics. We talk so much about digital, but we often lack a common language of what that encompasses.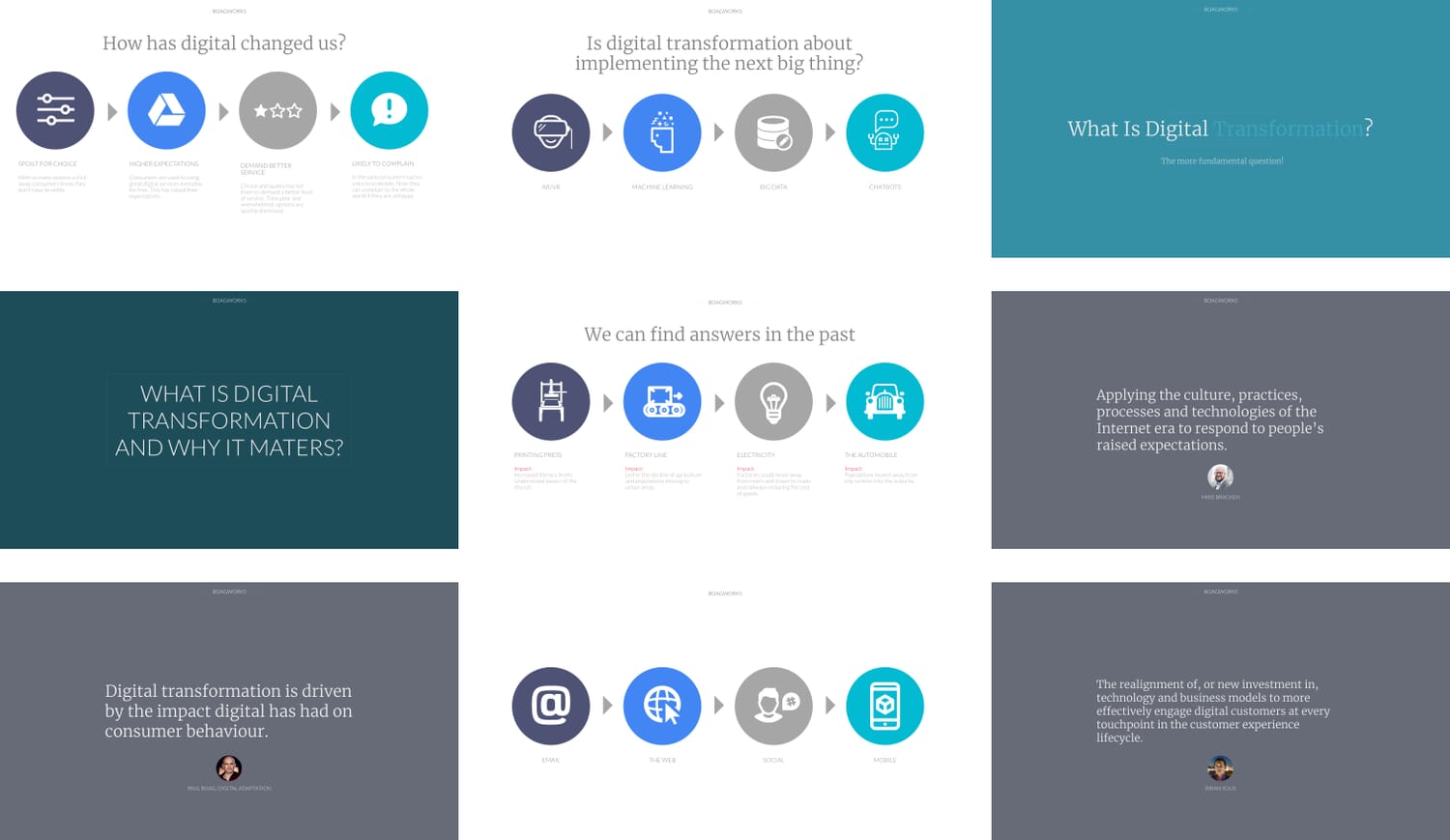 Instead of focusing on technology, I talk a lot about the impact digital has had on society. That is because it is this impact on consumer behaviour that changes how we need to go to market. I also find that this is a more comfortable way of positioning things for management.
When I talk about digital transformation, I emphasise that it is about adapting to changing consumer behaviour. I make it clear this is about more than buying in some new technology.
The Case for Digital Transformation
Once I cover what digital and digital transformation are, I explain why they matter. That boils down to talking about the opportunities of digital and highlighting the dangers of failing to address it.
I tend to do this through case studies. I talk about sectors that have been disrupted by digital. I explain how companies were able to achieve that disruption using digital. This often involves using technology to remove pain points from existing experiences.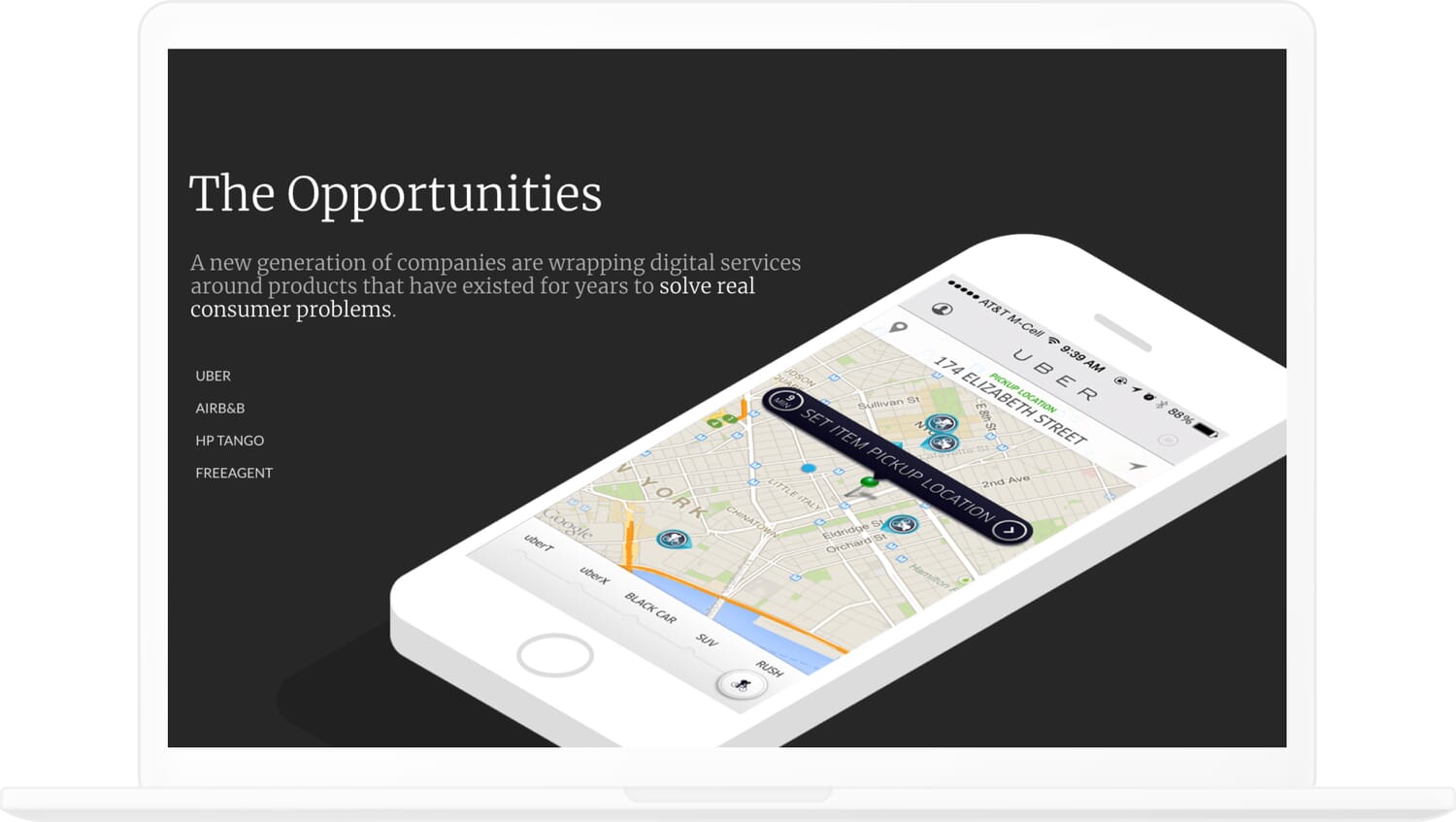 The Importance of Getting to Know the Customer
You cannot presume that the C-Suite will understand the need for customer research and so it will need explaining. Most have run businesses with little customer contact and only limited customer research.
The way I address this is to emphasise how consumer behaviour has changed and so you cannot rely on assumptions. What consumers want today is different from the past, in part because of digital.
I explain that most digital success comes from fixing pain points in an experience and so you need to understand their needs.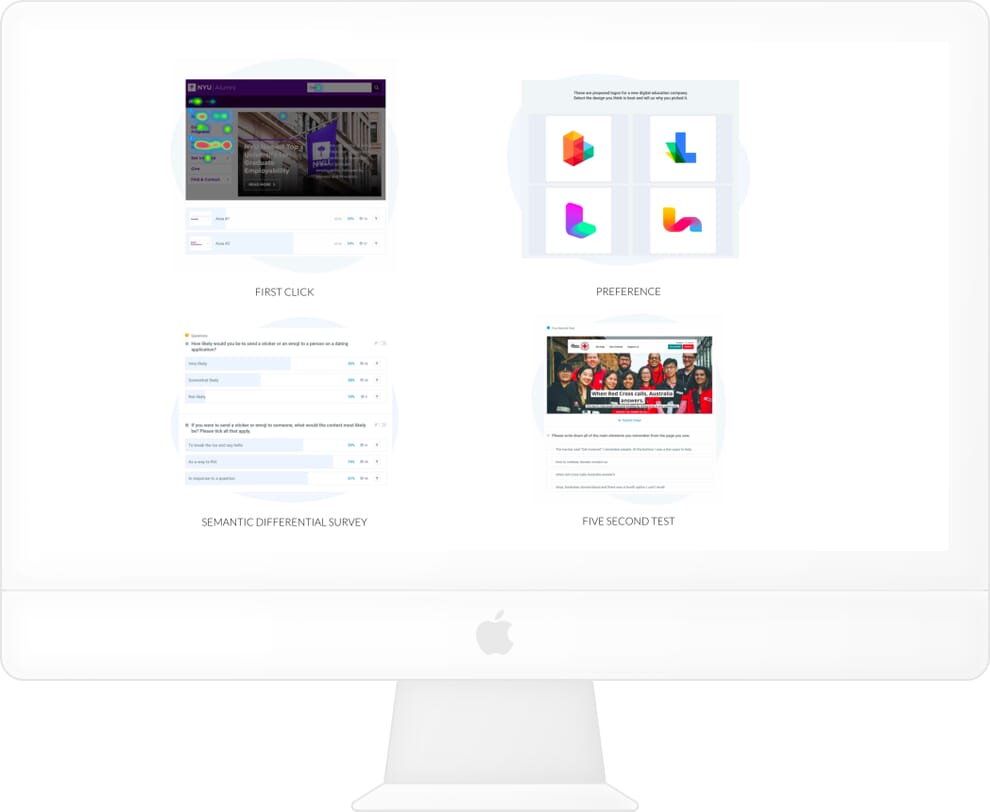 Finally, I emphasise that digital makes research easier and cheaper than in the past. I introduce attendees to modern user research techniques. Techniques that cost the company nothing more than time.
How Digital Needs Managing Differently
One of the most significant areas that need explaining is that companies should not run digital services like other projects. Digital has unique characteristics that offer huge advantages over traditional projects. These allow us to do things differently.
I tend to introduce concepts like iterative design, prototyping and minimum viable products. Concepts that aren't as unfamiliar to management as you might expect once you strip back all the jargon.
Yet, these concepts are often dismissed because they aren't workable in the real world. What management doesn't realise is that when it comes to digital, they are possible. Once they see that you will find them enthusiastic.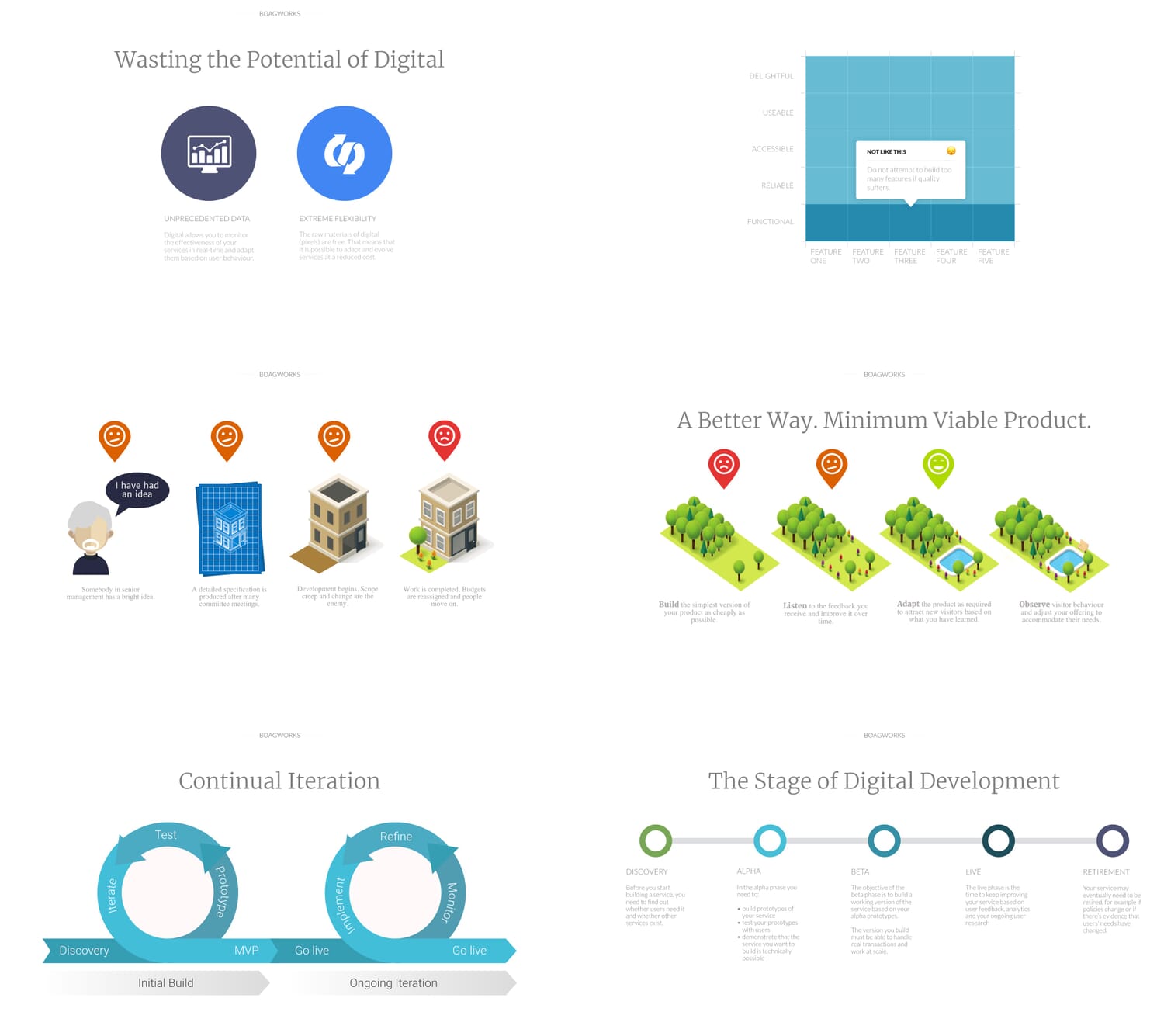 The Power of Testing in Digital
An area I pay particular attention to is testing. Management has no problem grasping the importance of testing. The problem is they often consider it expensive or time-consuming.
I spend time exploring how a company can integrate testing into development. I go on to explain how testing is crucial post launch. The emphasis is on how the company can do this without relying on expensive outside agencies.
Typically that involves introducing the C-Suite to techniques that the company can put in place at each stage of the services lifecycle from discovery, through build to the live deployment.
How to Establish a New Digitally Friendly Culture
Although it is essential that the C-Suite needs to understand how digital services are built, that should not be the main focus on their training. That is because the main blockers to digital success are organisational. Companies need to change the way they operate, and their culture, to succeed.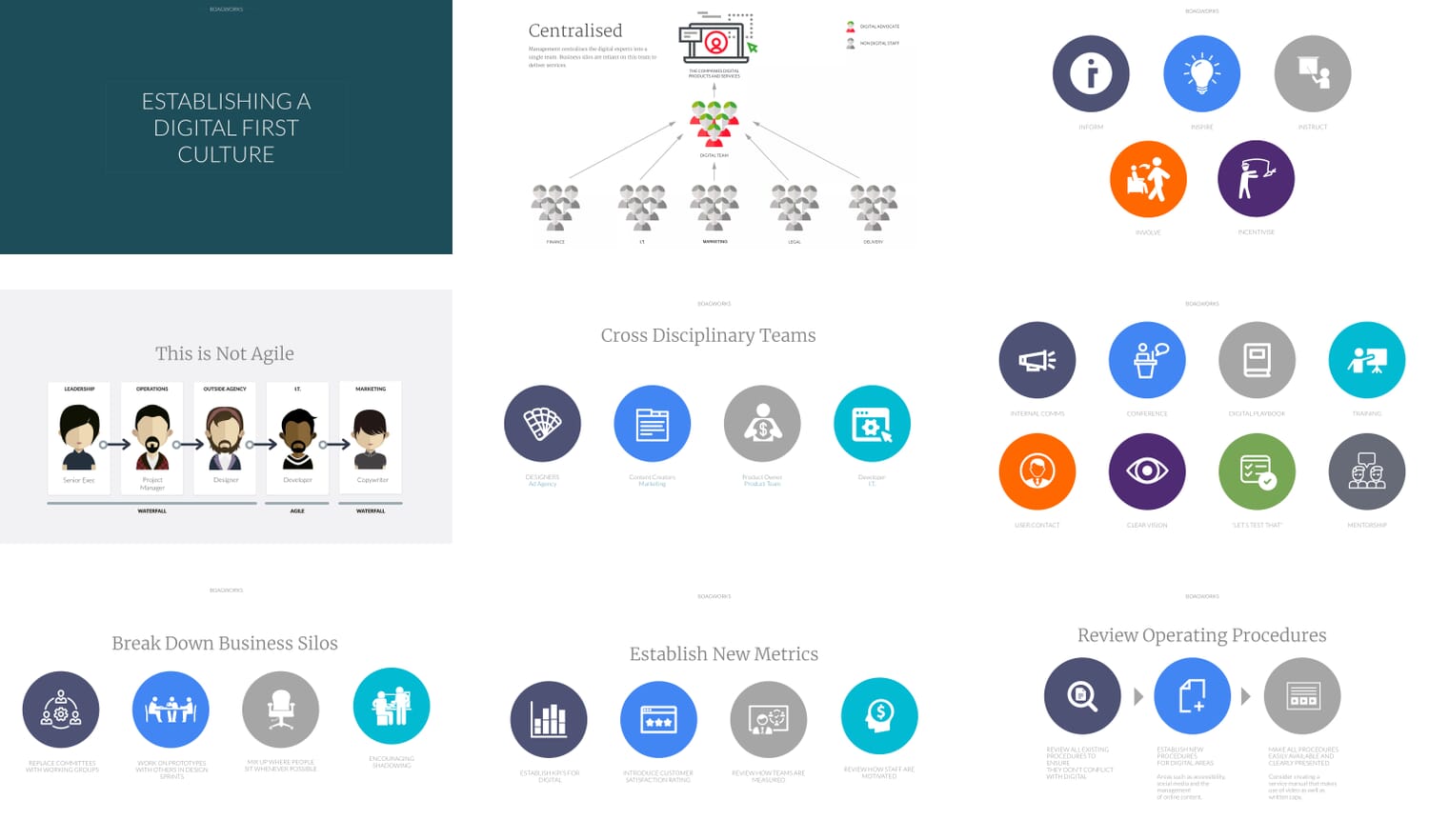 That is why I spend considerable time looking at the elements that shape culture:
Sadly, many management teams feel their companies are more advanced than they are, because they use digital tools. However, the mindset of the organisation is still stuck in the past, and that is an important message to communicate.
The Path to Digital Adoption
There are so many areas to address that the path to success can feel elusive. Management may know that change is needed and even the end goal, but lack a clear idea of how to get there.
Fortunately, we are now reaching a point where a well-trodden path can be seen, and the steps a company needs to take are clear.
For example, I talk a lot about the different stages of digital transformation and the need to centralise before bringing the whole company on board.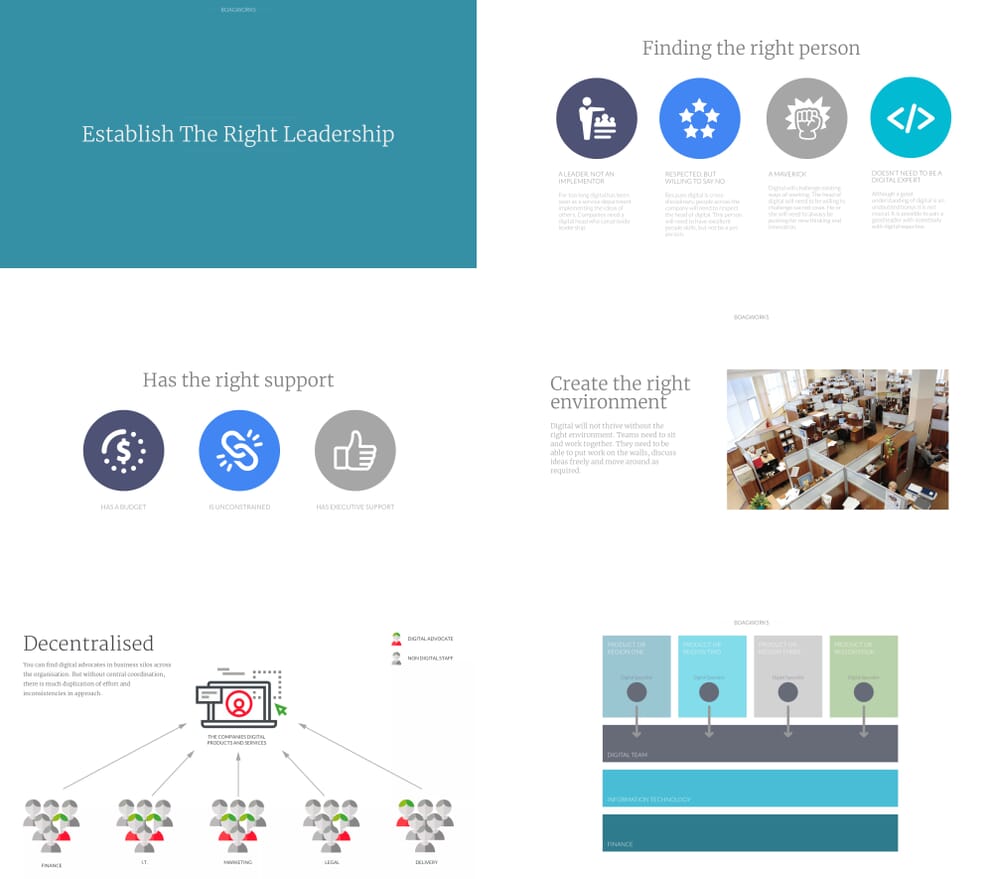 I also talk about the need for digital champions and clear leadership, as well as building a robust internal digital capability.
Your C-Suite will need advice about recruitment for these roles and what they will need to succeed. However, these will need to be practical suggestions. They will have to work within limited budgetary constraints. There is no point proposing the formation of a significant internal digital capability until you have proved its worth.
How to Begin the Journey to Digital Transformation
The danger of running digital training with your C-Suite is that they feel overwhelmed. It is important that although you layout the overall vision and do not hide the size of the task, you also provide some tangible next steps.
I tend to end workshop training with the C-Suite by recommending they start small. I suggest they focus on better understanding their customers and finding staff who have a passion for digital change.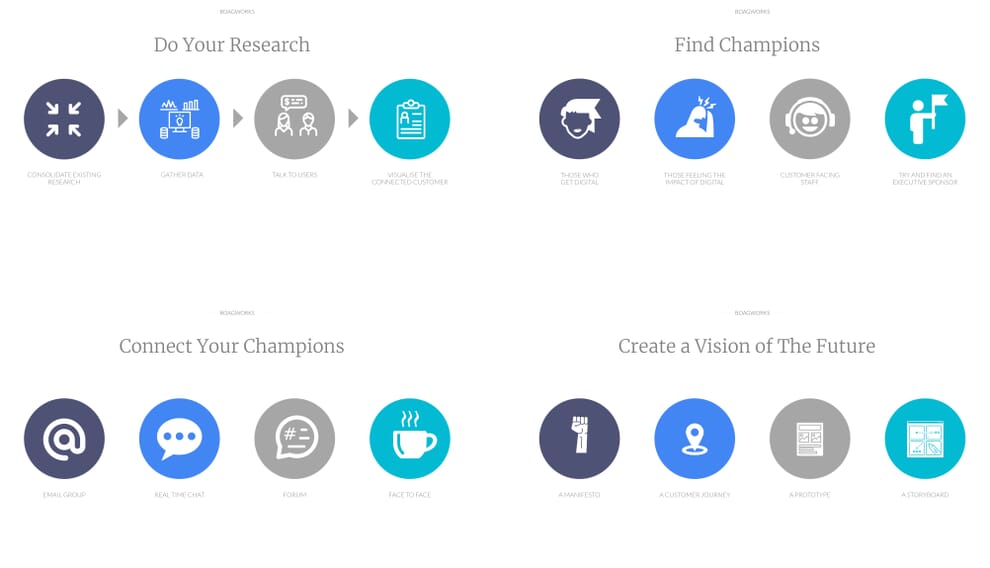 I recommend that these advocates work together to form a vision of what could be. That they ask themselves how they could use digital to improve the experience of customers. That simple starting point will help a company see where they are trying to get to and is often enough to get the ball rolling.
The Hardest Part Is Making the Training Happen
I'll be honest with you. The hardest part of providing digital training to your C-Suite is getting them to agree to do it. There are two factors which can cause problems.
First, many management teams feel uncomfortable with the idea of needing training. These people come from the command and control school of business. They think they have to be seen to be more knowledgable than their staff and to admit they don't know something weakens their authority.
If that is your executive, I recommend positioning these sessions as a strategy or research session, rather than as training.
The second problem is one of time. Most executive teams are ridiculously busy and getting even an hour in their diaries can be tough, let alone a day or more.
One approach is to piggyback digital training on an existing away day. Alternatively, start by asking for a one hour slot to give them a high-level overview and demonstrate the need for more in-depth training.
Whatever approach you adopt, it is worth the effort. Winning over your C-Suite to the need for digital change will open up a world of possibilities and make your job a hell of a lot easier.
Stock Photos from In Green/Shutterstock