Are you getting the most from your digital channels? The chances are they are underperforming because you lack an integrated approach.
Although many organisations already use every digital channel at their disposal, common issues we see are both the lack of a cohesive strategy that links these channels together and a disconnect between their brand values and digital presence.
Maintaining brand consistency is clearly important, evidenced by the brand guidelines and style guides that many organisations produce. Keeping a brand consistent…
Encourages trust between you and your audience
Gives a feeling of stability to your customers
Helps customers recognise and remember you

However, we sometimes forget that our brand is much bigger than just the visuals – a brand includes everything from social media channels to how we respond to online reviews.
Each weapon in your digital arsenal can both maximise and play off one another. For example, search engine listings can lead to a landing page on your website, or content from your website can be promoted to a larger audience through social media.
Working these strands together magnifies your marketing return by providing more touchpoints with your target audience. When the same audience hears about you multiple times through multiple channels, they're much more likely to take action.
Research by McKinsey uncovered that:
"Companies with greater digital capabilities were able to convert sales at a rate 2.5 times greater than companies at the lower level did."
In simpler terms, when customers had more touch points through more digital channels, this more than doubled the chance that they'd buy.
For a combined approach to work to its full effect, however, each channel must join together to pull in the same direction. Ensure that all digital channels are consistent. Each will have a slightly different aim and audience, so they should differ, but they all must be properly maintained and represent the tone of voice you want to portray for your brand.
A Disconnected Strategy Can Damage Your Brand
Just as a connected strategy has its benefits, a disconnected strategy can hurt your brand, diminishing trust and damaging your brand's relationship with the end user.
To demonstrate this point, let me share with you some cautionary examples taken from my own experience of working with luxury hotel brands. These showcase times where a brand's aims don't match up across their digital channels…
No Connection with Your Brand Aims
If your website's saying high-end luxury, but you're posting clip art and trashy hashtags on Twitter, then something's clearly not right. Instead, using appropriately refined language and imagery helps portray that sense of luxury.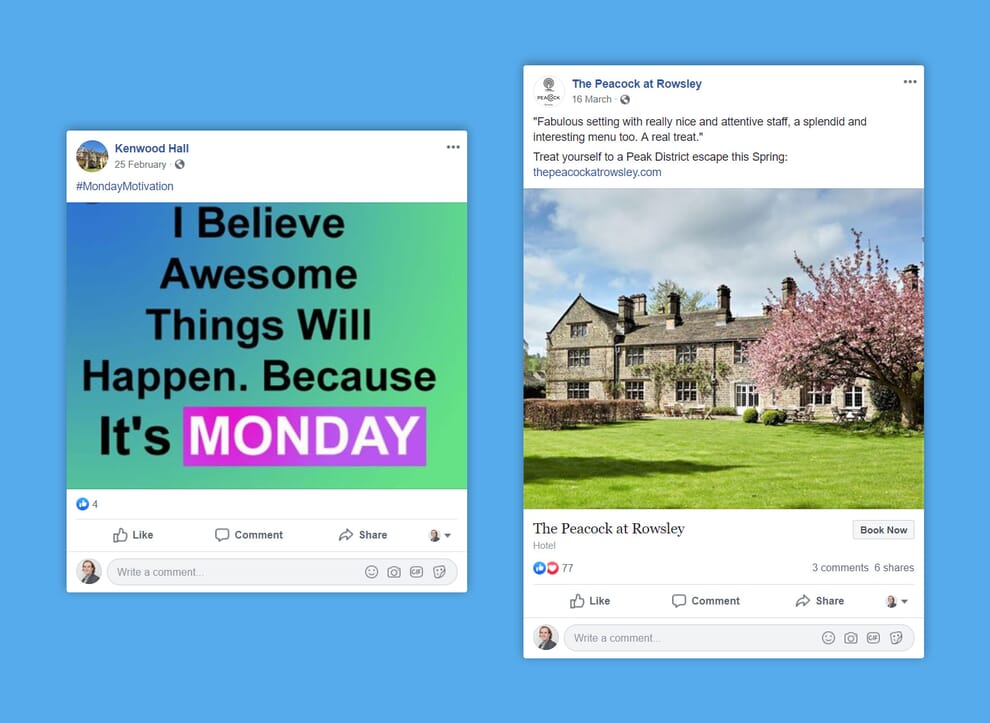 If you are seeing these warning signs, go back to your strategy and make sure everyone who's involved in delivering their part of the strategy has a good understanding of the brand identity you're aiming for and starts to pull together. Consistency is key.
Using Imagery Inconsistently
The style of imagery you use across your digital channels is important too. When your website features professional food photography and your Facebook features an Instagram screen capture that looks less than appetising you're doing two things:
Firstly, not being a good steward of the investment that was made in professional photography.

Secondly, creating uncertainty in potential customers as they will be unsure as to the quality of cuisine on offer. That inconsistency is enough to put doubt into the customer's mind and lose their booking.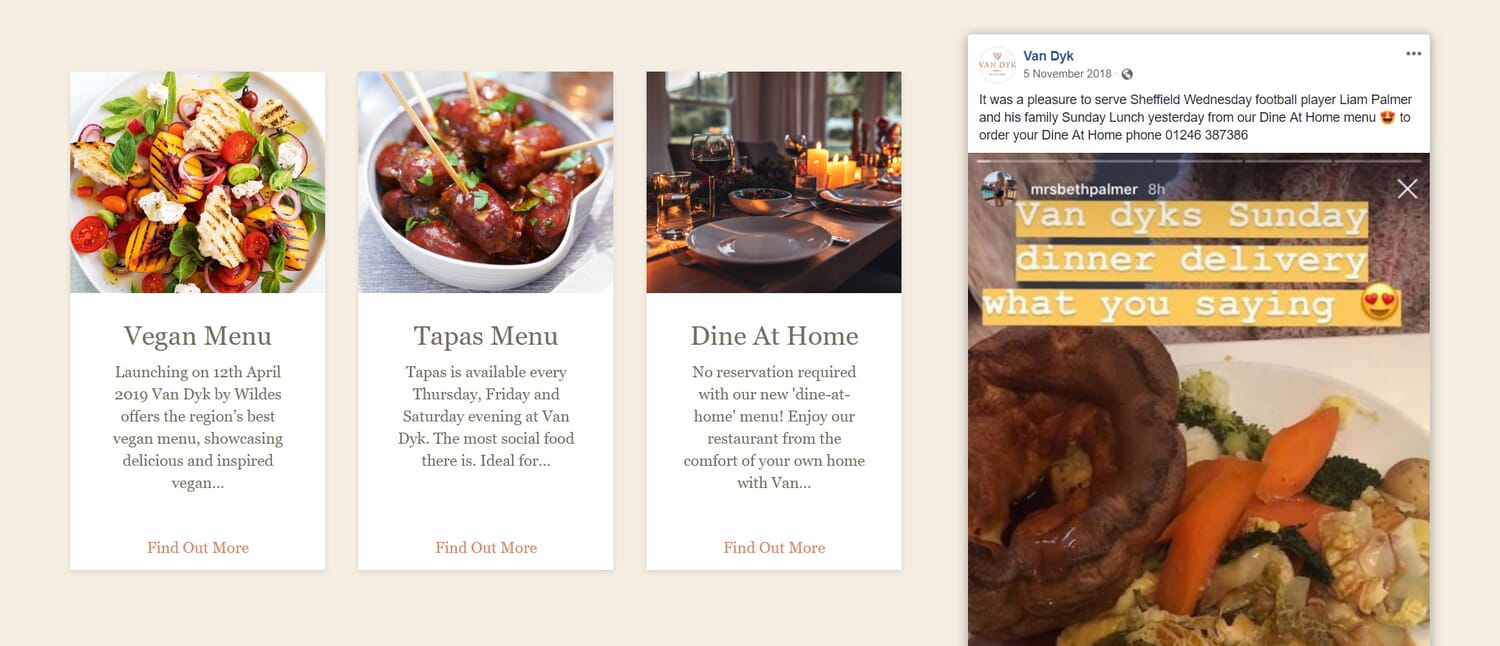 Trying to Connect, but Missing the Point
Here we have a perfect example of an attempt to work digital channels together by encouraging loyal social media followers to sign up to a newsletter.
Unfortunately this has been actioned in a manner that will confuse and annoy the users – the post features a screen capture of their Facebook page, within a Facebook post. In order to sign up to the mailing list, the user would have to first find the Facebook page, go to the Email Signup tab, and then enter their details.
A better solution, in this case, would be to point users to a landing page with a quick outline of the benefits a user would receive by signing up, alongside a simple form taking the minimum amount of information required.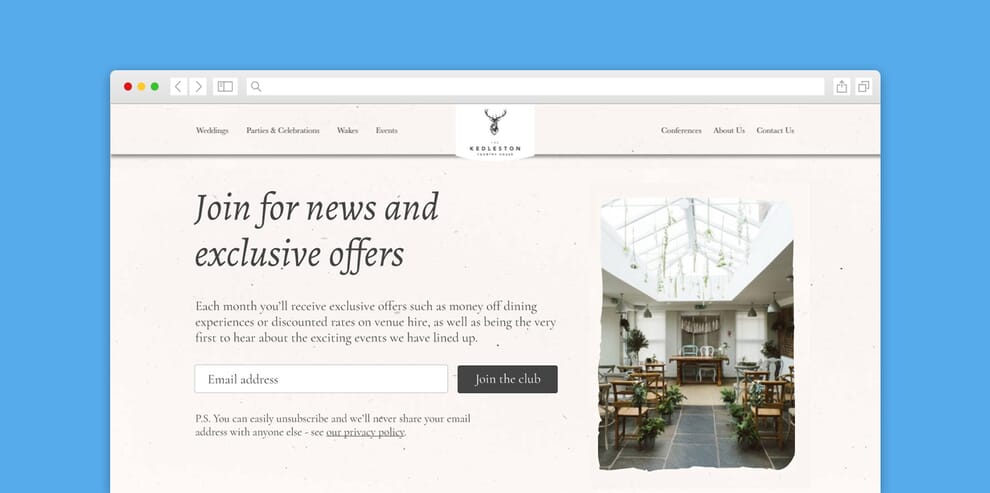 If you are seeing these warning signs, go back to your strategy and make sure everyone who's involved in delivering their part of the strategy has a good understanding of the brand identity you're aiming for and starts to pull together.
A More Cohesive Digital Strategy
There are many ways to get your digital channels working closely together. The opportunities for each organisation will be different based on your industry and organisational aims, but here are some practical ways you can make your digital marketing strategy more cohesive…
Capitalising on Reviews to Gain Fans on Another Platform
Considering the customer journey can highlight opportunities for your channels to work together.
For example, if you collect reviews from your customers, you can capitalise on good sentiment. Using the review data, follow up with those who left the most positive reviews, these are the ones that are feeling positive about your brand and are most likely to act in your interest. Perhaps request they follow you on social media or join your email marketing list.
By working these channels together (reviews, social media and email marketing) you're able to move your audience along the customer journey, turning a one-time user into a brand advocate.
Adaptive Landing Pages to Boost Search Listings
Further opportunities can be highlighted by looking at your existing strategies. For example, perhaps you have some form of search engine marketing in place, be that organic or paid. Twinning this approach with your website can maximise your results.
Make sure your ad lands the user at an appropriate page. It's very common to see a user dropped straight to the home page or a generic booking, purchase or contact page.
For example, if you're promoting dog-friendly holidays, make sure the tone of the text on the landing page and the imagery used back up that offering and reflect that audience. Photos of pooches and supporting text will both reassure the user and go toward improving rankings and quality scores.
Using Social Media to Give Website Content a (specific) Audience
Whether you use your website to share blog posts, sell products or showcase your offering, your content is useless without an audience and powerless without the right audience.
Platforms such as Facebook offer incredibly focused targeting options which can be used to match your content to its ideal audience and get it in front of them.
For example, a hotel that offers wedding packages may have put together an effective landing page, excellently designed for conversion. Putting targeted Facebook ads together can get that content in front of people in the geographic region who have recently changed their relationship status to engaged. This can even be refined to match the target clientele of the establishment based on the user's interests (e.g. users who are interested in luxury brands). By closely matching the target audience to those that match the page's content means better conversions and a better return on investment.
The End Result
Developing your digital presence and combining your channels into a more cohesive and consistent strategy can maximise the return that these channels offer. Channels working in isolation from each other can be damaging, so be sure that all your digital marketing team and collateral are all pulling in the same direction.
Ben Walker is the founder of ​Arise​, one of the UK's top digital specialists in social media and web design for the hospitality and tourism industry.
Stock Photos from Sashkin/Shutterstock