Content marketing is the secret to online visibility, but it is not without its challenges. It is time-consuming, and there are no guarantees of results. Fortunately, there is a way you can save yourself time and improve the chances of success.
Whether you are trying to raise your personal profile or that of your company, things are becoming increasingly hard online. There are so many voices clamouring for attention that it is hard to be heard. Only by gradually growing a reputation and nurturing an audience can you stand out from the crowd.
What Is Content Marketing?
That is what content marketing is all about. It is about creating shareable online material that provides real value to people. The value that encourages them to follow you and pay attention to what you have to say. This entire blog is an example of that approach. But that content could be a podcast, series of videos, e-book or social media updates. In fact, to be successful, it has to be a combination of all the above!
Why Content Marketing Is So Hard
That means content marketing is hard work. It means consistently producing quality content on a regular basis, across multiple channels. Material to continually keep your audience engaged. It is not enough for people to hear from you once, they have to see quality from you regularly.
That is a laborious process without guaranteed results. Not every article, social media update or video you create will be well received. It will often feel like you are wasting your time.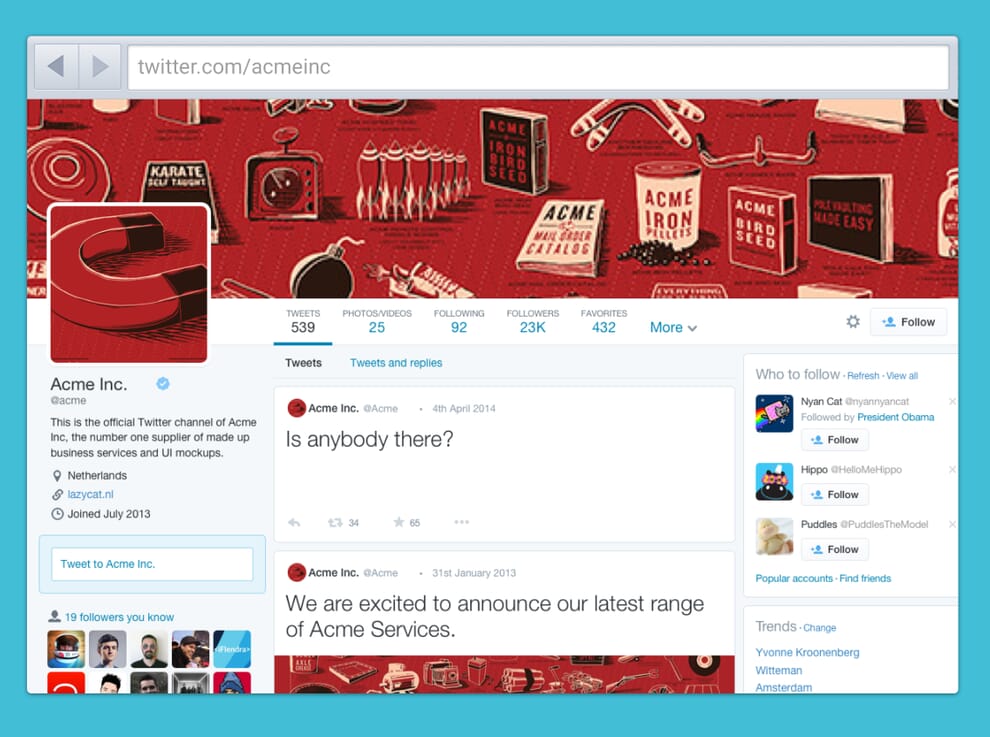 It is not surprising therefore that many give up, while others continue to plod on without seeing measurable results. However, it is possible to lighten the load of producing content while at the same time increasing the chance that the material will provide results.
A Process That Provides a Better Results
The key to success with content marketing is the realisation you can reuse the same content across different channels. The fact that different people use various channels, and the need to expose people to your content multiple times, makes recycling content across channels a sensible approach.
How to recycle content
For example, an idea may start as a tweet that you expand upon on Facebook. You could extend that further as a short blog post that could then become the inspiration for a podcast episode. You might also want to take multiple blog posts and combine them into an e-book. You could then turn that e-book into a self-learning course on a platform like Skillshare or Udemy.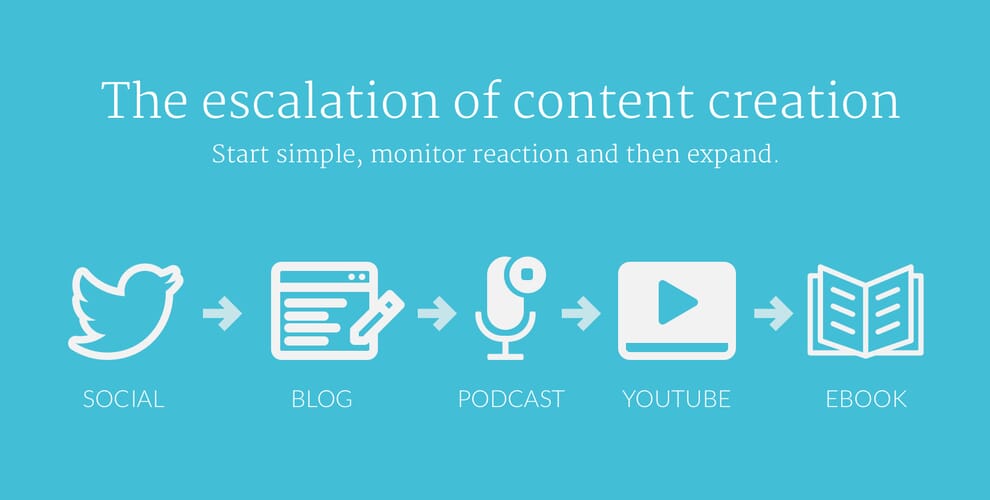 But this process can also work the other way round. You can begin with a long-form piece like an e-book and break it down into a series of blog posts. Equally, you can take an individual blog post an extract critical points to share via social media or in short YouTube videos.
Taking this approach of recycling content can save significant time and effort in creating it. However, it does not guarantee that the content you produce will be successful. For that, you need to apply just a pinch of scientific rigour!
How to test your content marketing ideas
Let's say for a moment you have an excellent idea for an e-book. However, creating an e-book is a significant time investment. How do you know whether it will be a success and resonate with your target audience? The answer lies in our recycling approach. We start by testing the idea with something a lot less time-consuming.
For example, you could take some of the fundamental principles that you hope to cover in the book and turned them into a series of social media updates. If you discover that people share these updates more than your average post, then you know that you might be onto something.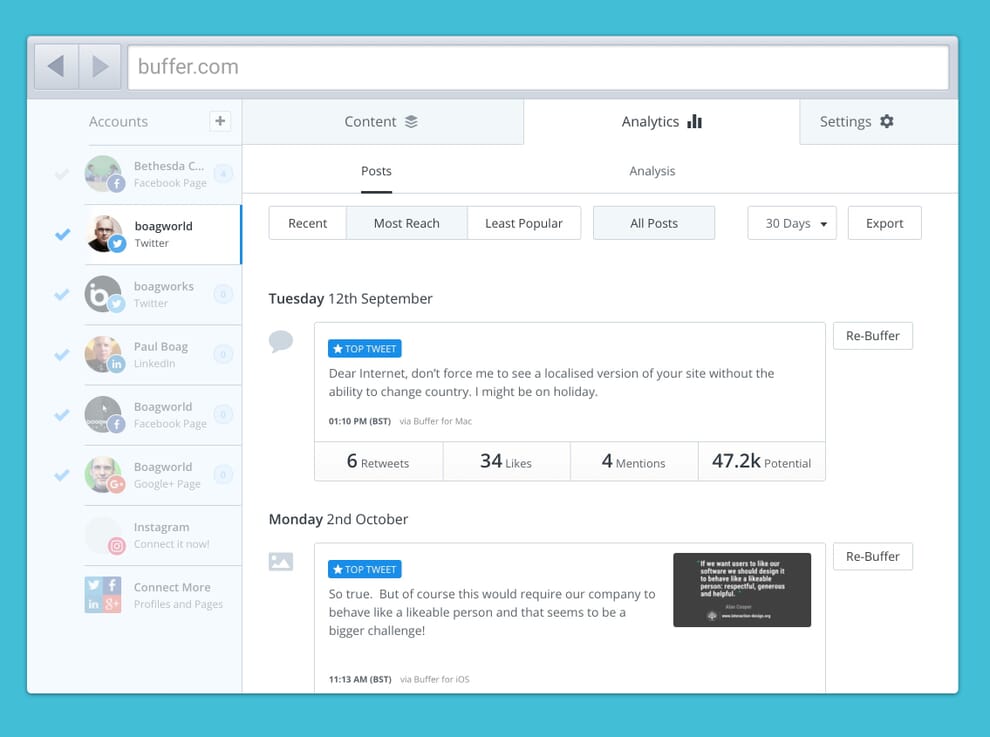 The next step would be to cover some of the topics you intend to include in your e-book through a series of blog posts. Not only can you reuse the content from these articles in the final e-book but you can also gauge the level of interest that these posts generate.
This principle of reusing and measuring content marketing material will make an enormous difference. This post, for example, will also generate many social media updates and has been the inspiration for the latest season of the Boagworld show.
However, there is more that we can do with this recycling approach to make it as efficient as possible.
Recycle Efficiently
Because content marketing is often a secondary part of our job, we fail to give it the attention it deserves. For example, we don't take the time to set ourselves up correctly to produce content in the most efficient way possible.
Get organised about inspiration
Sometimes we are our own worst enemy. Instead of continually collecting inspiration for blog posts, social media updates and other forms of content marketing, we sit down to create something and are left staring at a flashing cursor.
Make your life easier by always being on the lookout for great ideas. When you see them add them to a list that you can return to later. Even this blog post has been sitting in my inspiration list for at least the last six months waiting for the right moment to write it.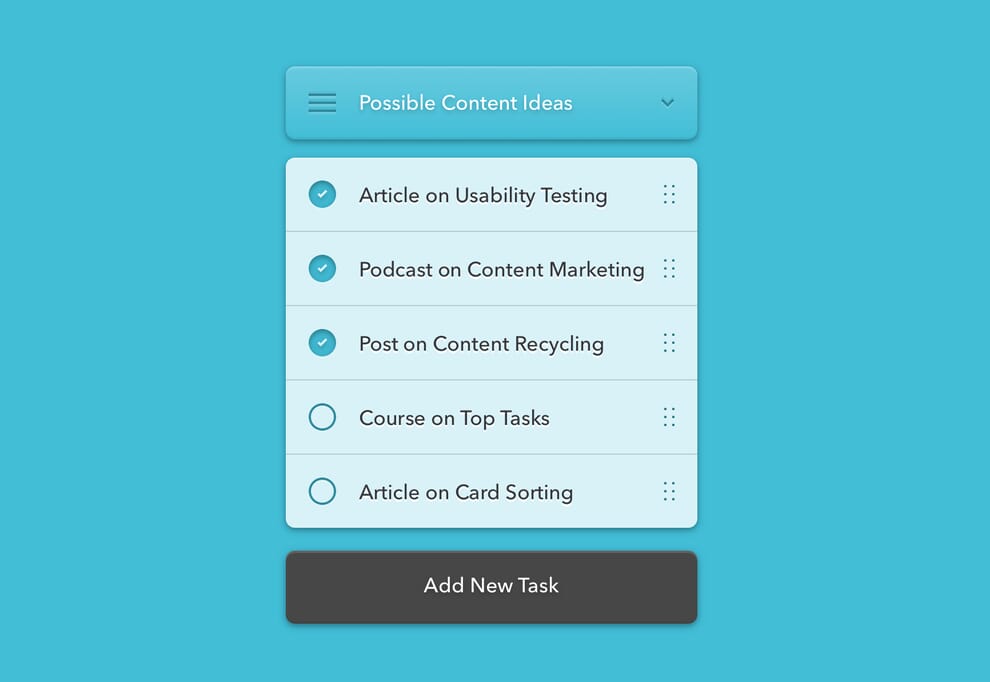 Stop wasting time hunting for media
Another mistake we commonly make is to scramble around looking for media to go with our latest piece of content marketing. Images to appear in social media updates or blog posts. Video footage to add to our YouTube posts and audio to improve the quality of our podcasts.
Instead of endlessly trawling through low-quality free stock libraries trying to find the perfect fit, subscribe to something like StoryBlocks so that you can quickly discover supporting material for your content marketing.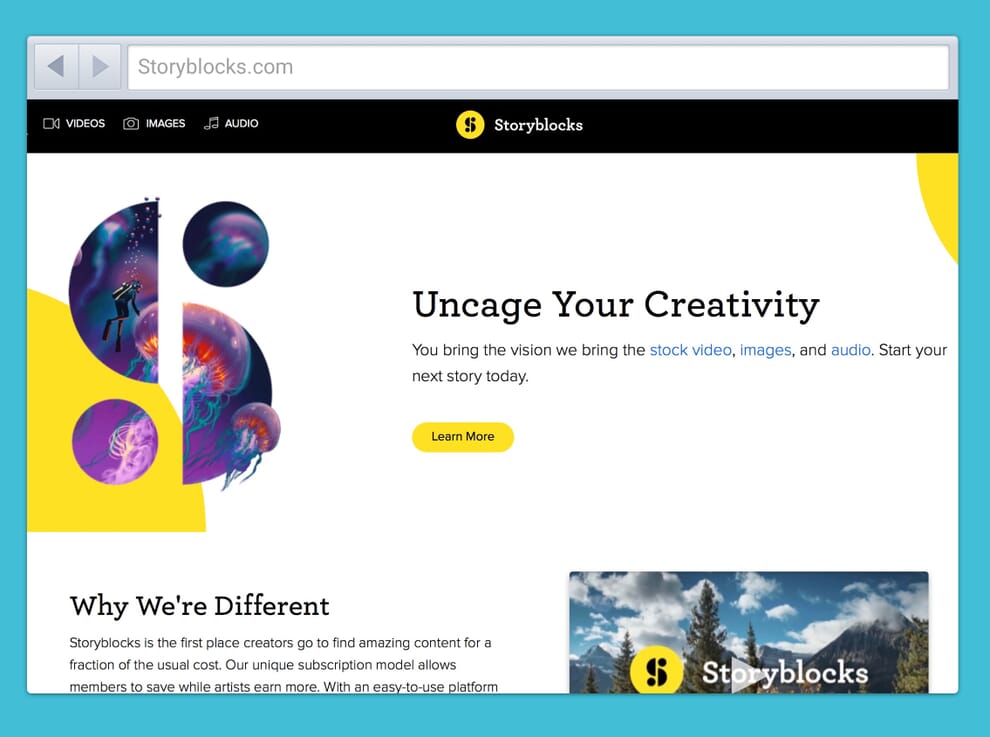 Establish an editorial calendar
Finally, make sure you have a tool to keep you organised when it comes to your content marketing schedule. Something that ensures you know what is coming up and what gaps you have to fill. That could be something as simple as an Excel spreadsheet, but personally, I would recommend a tool like Coschedule as it will not only allow you to manage your editorial calendar, it will also let you schedule updates.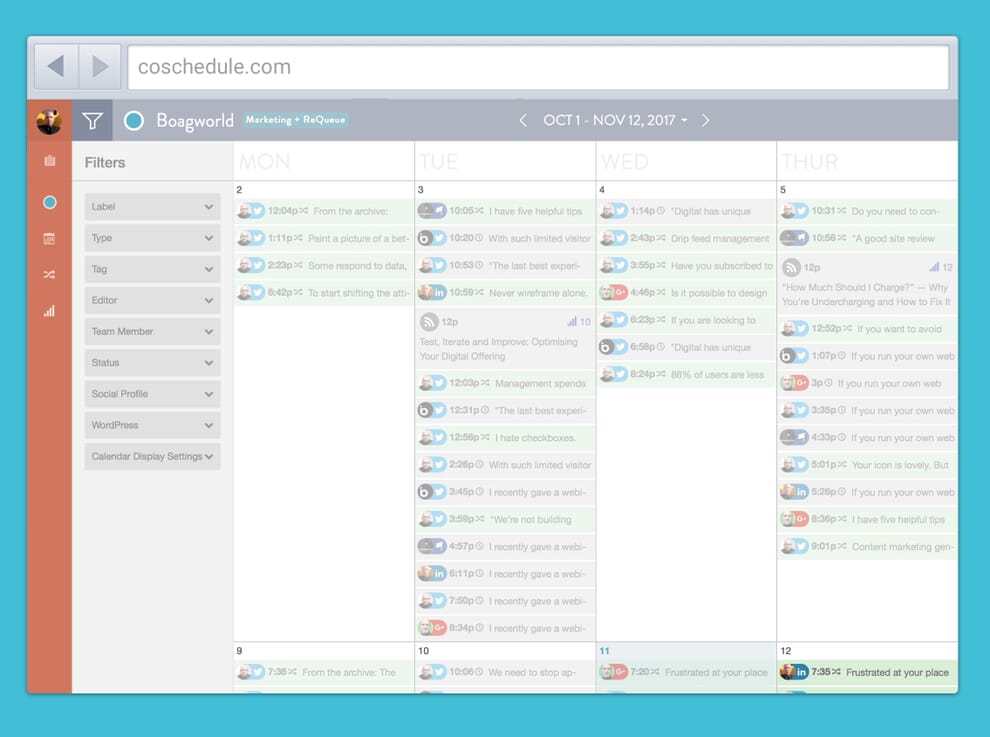 It Is Time to Get Serious
The message I'm trying to get across to you is that it's time to get serious about your content marketing efforts. Whether you are trying to promote a business or just build your personal brand, you need to plan your approach rather than doing things on an ad hoc basis. Not only will this increase your effectiveness, it will also save you a lot of time and effort.
About Videoblocks by Storyblocks
Videoblocks by Storyblocks is the first place creators go to find amazing content for a fraction of the usual cost. Our unique subscription model allows members to save while artists earn more. With an easy-to-use platform and the latest formats—like VR and 360° video—we provide all the building blocks for your stories.