In this post Dean gives us a glimpse of how iterative design and feedback from clients has made Teacup a solid solution for running Google ads.
Running Google Ads is a task fraught with complexity. Larger enterprises either have skilled in-house teams or high priced agencies running their ad campaigns which makes it easy for them. Small businesses, however, with limited resources and bootstrapped budgets are often left to fend for themselves.
I get it. Google Ads, formerly AdWords, isn't inviting for you either. The hours of set up, the expertise needed, and the never ending time commitment justify why PPC services deserve fair compensation. Many web businesses either shy away from offering this to their clients or they require large minimum budgets to cover their fees. The downside is that this prices out the real small businesses, the micro-businesses, or the local mom-and-pops.
There must be a better way, so I set out to build a solution: Teacup. Whether we succeeded or not is arguable but what is clear is that when simplifying something so complex, it is an iterative process. That's what I'm going to share with you – the iterative design process, the mistakes and of course, the decisions we made thanks to feedback from experts like Paul (who's blog you're reading), and suggestions from customers who gave us a shot.
Pivoting To Ads From Analytics
When Teacup was first created, it was an analytics and reporting tool. We took the quantitative data from Google Analytics and analyzed it qualitatively. The goal was to provide context around the numbers and show small businesses things like whether their bounce rate was "good" or "bad."
This was well received but if I'm to be honest, not tremendously valuable to small businesses who struggled to act on the information. Sure, we could tell them that their new visitors from social media needed attention. We could even tell them what to do, but getting them to do it was impossible. We weren't competing against other reporting tools. We were competing with endless other tasks that need attention in a small business owners' day.
So Teacup pivoted to ads. I figured that if we could automate the management of ad campaigns, we could take responsibility for the actions. In other words, we could do, and not just tell people what to do.
Building A New Process
While I was busy running tests with small business volunteers to hone the optimization model that would form the basis of our A.I., Gabriel, our designer, had to redesign everything. We knew from alpha testing that small businesses struggled to create even the most basic campaign. First, we had to help there. They also struggled with choosing their keywords, so we had to make that easy too. Then, we also had to design landing pages for small businesses, especially if they didn't have a mobile-optimized website (or even a website at all). Trudging along, we also had to make adding new keywords simple, so we added a clone tool.
Next, we had to offer notifications. We had to tell businesses what needed their attention. Of course, as we learned from our analytics experience, we had to help them fix the issues too. And then there was true communication and we wanted to offer transparency. We needed to tell businesses what we'd been doing on their behalf. Or, if you're a web professional offering Teacup to your clients, we needed a way to share how hard you're working for them.
It was a long list to tackle, but we did it. Here is how!
First, we created a mockup using Invision and I took this to Paul for feedback. Paul picked it apart from the text to the structure. Here's how my own notes looked from the first few calls: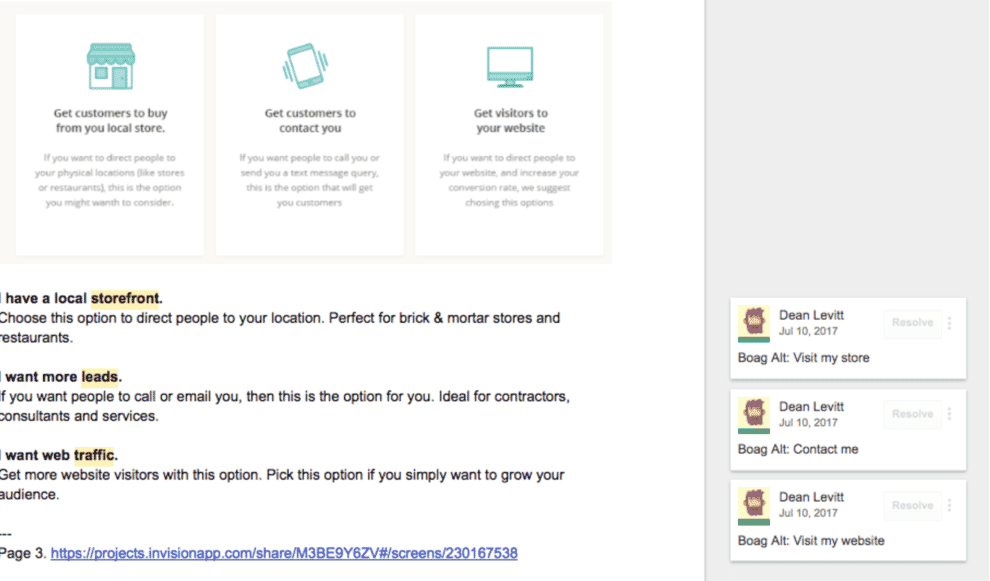 From the first mockup draft, I had over 23 pages of tweaks and feedback. Almost all of it focused on getting to the point faster. Sometimes, I disagreed but I always noted any feedback because it was worth testing and thinking about. Like this:

Now that you've got an idea, let's go through the steps in a little more detail.
The First Steps To Creating A Campaign
For our first version of Teacup's Google Ads tool, we gave the new customer five questions to answer. If they wanted more, then another six. We'd then use these questions to craft ads and their first landing page.

We still offer this technique in the app for those that liked it but when it came to onboarding, we needed to move faster. So here's what we did after a few variations of testing:
It begins with a URL. With this URL, we can look at the customer's website and do our best to understand their business, and more importantly, capture their information without all the questions.
We used a map of common websites to try and figure out where the information we needed commonly existed: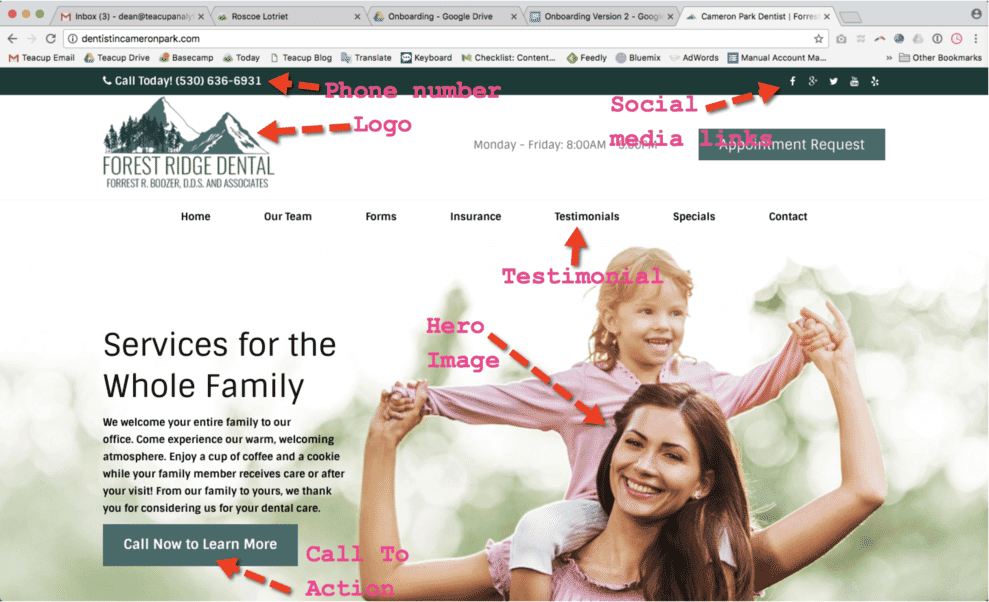 Next, we built a simple A.I. to extract that information. We even looked at the text on the site too to glean ad copy: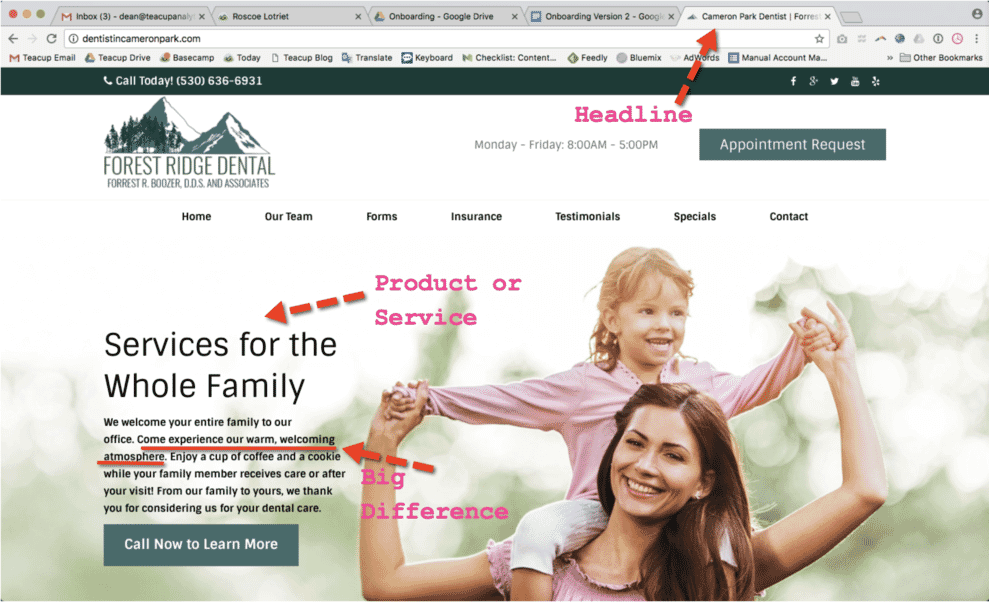 This worked well, but we soon found out it was too reliant on the customer having a website that was impeccably structured. I figured it worked about 60% of the time which, sadly, just isn't good enough. So we decided to integrate with Yelp to see if we could get more structured data back. Spoiler alert: It worked!
Now, we check to see if the new customer is on Yelp and, if so, we're able to pull a lot of relevant data immediately. This integration makes onboarding much, much faster from writing ads to creating landing pages. Now, a customer enters their URL and then confirms that we found the right business on Yelp (or is able to search for it themselves). In two steps, they get to see their first ad ready to go with NO further questions. Pretty cool, right?
Sure, the ad looks rather generic, but it's a great starting point. Utilizing the categories and information in both their website and Yelp, we're able to learn a lot about the business. We can draw up their basic information too, including address, phone number, logo etc. It's not necessary for the initial Google Ad, but when it comes to generating their landing pages, it's already quite far along.
It took tremendous effort, many trials, and a ton of errors to get to this point. Seeing the challenges that small businesses faced in creating campaigns led us to see the importance in creating a solid foundation. Paul always stressed a clean onboarding too, which helped inspire us to stay simple.
Crafting A Google Ads Campaign
Well, one ad is okay but it doesn't make a campaign. We needed to make it straightforward to create a few ad variations so Google can optimize the ad rotation. Instead of requiring people to create a whole new ad, we turned to our original question framework and built that into the dashboard. It looks like this: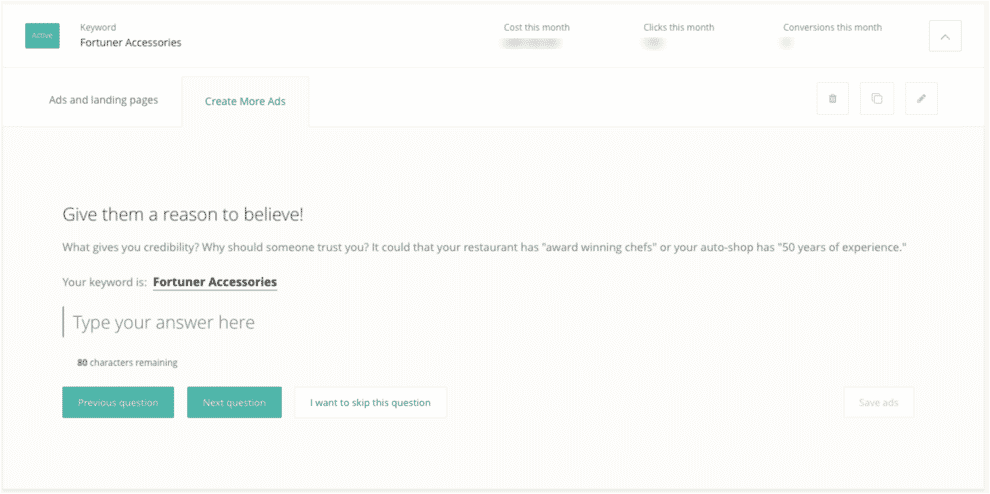 Every question creates new ad variations by combining answers together. Approximately four answers creates two ads, while five answers creates up to 10 ads. However, it depends on which question was answered and how we're able to create unique variations so results vary. It's important to offer these variations so both Google's ad rotation and Teacup's A.I. can optimize for the top performing ads and show them more.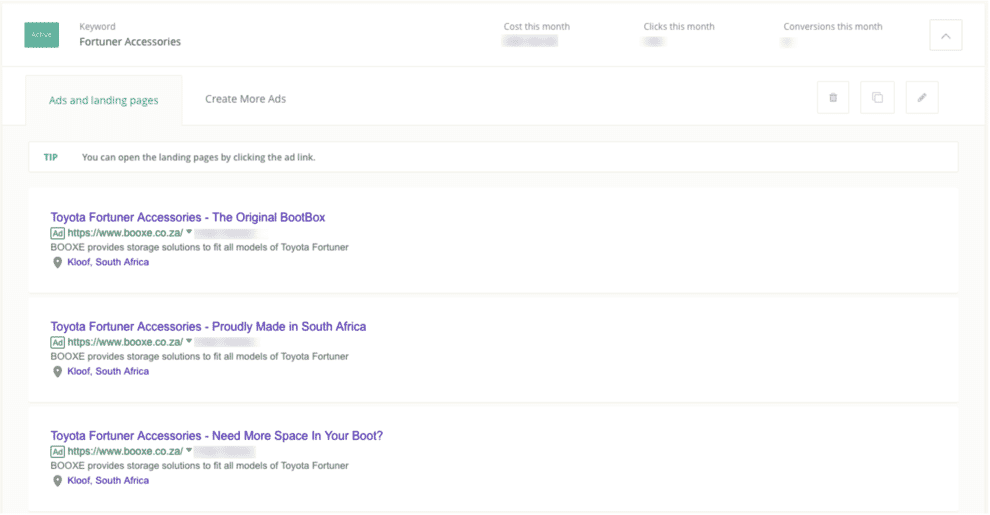 When testing this with the very first beta tester, they had a number of similar keywords. Re-doing the ads had become a big hassle so we built a clone tool for Teacup. While visually uninteresting, the clone tool allowed for new keyword variations without needing new ad copy. A simple "find & replace" logic meant that the new ads were relevant to the new keyword.
Optimizing Ads With A.I.
Once a campaign is running, there is often a lot of optimization that needs to be done. Teacup needed to tell customers when a bid should be raised or lowered, whether ad copy should be improved, or a landing page needed to be tweaked. Teacup optimized for over 60 "rules" checking things daily, weekly, and monthly with very specific suggestions.
It was Paul's idea to place these optimizations at the campaign level versus our original idea to place the suggestions under their related keywords. His suggestion allowed for the customer, or AdWords manager, to optimize the campaign all at once. This proved to be a much more sensible mental model. If anything, this highlighted a common mistake – thinking too granularly.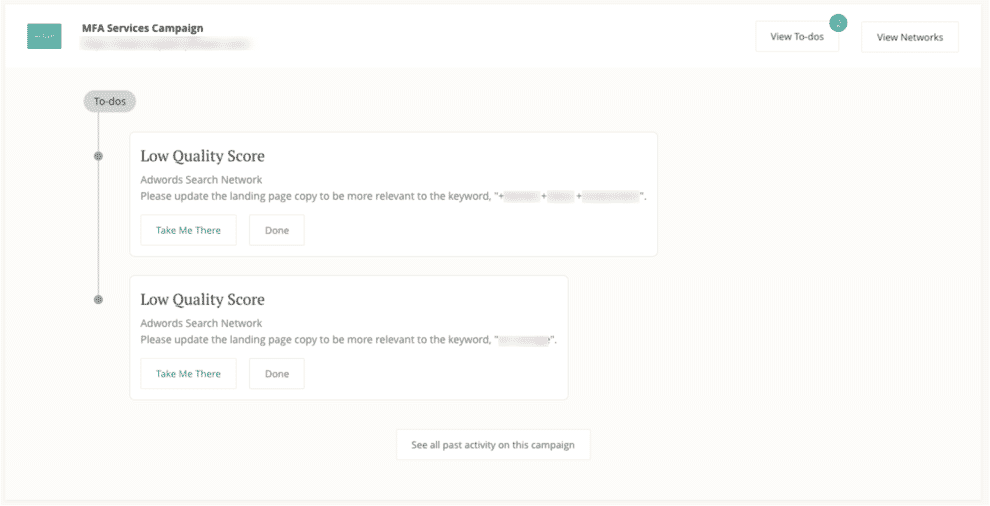 Communication Matters
One day, I had a call from a pal who has an SEO consultancy. He wanted to refer a client to Teacup. That client was paying a marketing agency to manage their AdWords account but she felt like they weren't actually doing anything. Now, I have no idea about that agency and how they invested hours into the client account but regardless, they had an unhappy client who was not convinced of their efforts. It gave Teacup one clear new need: to build something that shows the effort it puts in.
The result? Teacup added a timeline that describes everything we check, review and enact. It looks like this: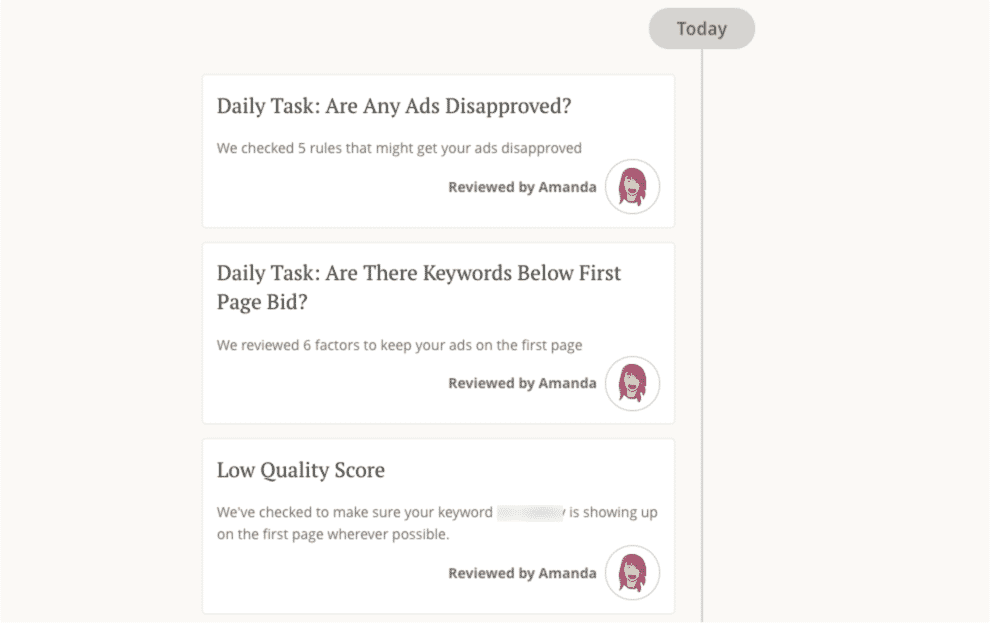 Here, we give the client transparency into the depths of account management. Sure, it's not always interesting, but numbers don't lie. They'll never doubt that someone is thinking about them and their business if they're reassured Teacup checked XYZ today. If you're a web professional offering ad management to your clients, we built this feature for you to share with clients, so they feel delighted every time they write you a check!
Iterating Based on Feedback
Unfortunately, not all of our hard work sees the light of day. We created tons of clever features but they exist behind the scenes. One of my favorites is our tool to find the perfect negative keywords as it was a conceptual challenge that I'm proud we accomplished. But your clients (and our clients) don't care about that stuff.
We also built amazing tools to track the long term impact of small changes on a website, running statistical analysis on changes in conversion rates and website traffic. But again, it was a feature I wanted, not what customers wanted. We removed it because, heartbreakingly, no one cared about that either.
What customers did care about was how it feels to use Teacup and Google Ads. When a customer uses a software, they should feel inspired, confident, and surprised at how easy it all was. When it comes to building a tool that simplifies complexity, feedback, both from experts like Paul Boag and from small business end-users, is your guide. Their reactions, suggestions, initial feelings, and desires are what must inform the feature set and guide the design.
Teacup is the first ads management software to prove success with a low monthly spend, closing the gap between AdWords and small businesses. Our sophisticated AI optimizes campaigns specific to the business and its goals, not by following a one-size-fits-all solution. Teacup handles all the "hard stuff" by doing behind the scenes keyword research, ad creation, campaign structure, SKAG management and more on AdWords and Facebook. With only a website URL, Teacup automatically writes ads and creates beautiful landing pages to increase conversions and lower CPC's. We save you time and improve your results by making PPC marketing easy. Try it out for free at www.goteacup.com.
Thanks to niroworld from Shutterstock for allowing me to use this image.