The last thing the world needs is another review of the iPhone X. But the experience of buying and owning an iPhone X does expose some intriguing insights into creating great user experiences.
The curse of being a user experience designer is that you see the good and bad in every interaction you have. It can be annoying at times, but it does mean every interaction is an opportunity to learn. My recent purchase of an iPhone X is a good example.
Buying an iPhone X has shown me both where a user experience can go wrong and how we can improve almost any interaction by relentlessly focusing on a single thing.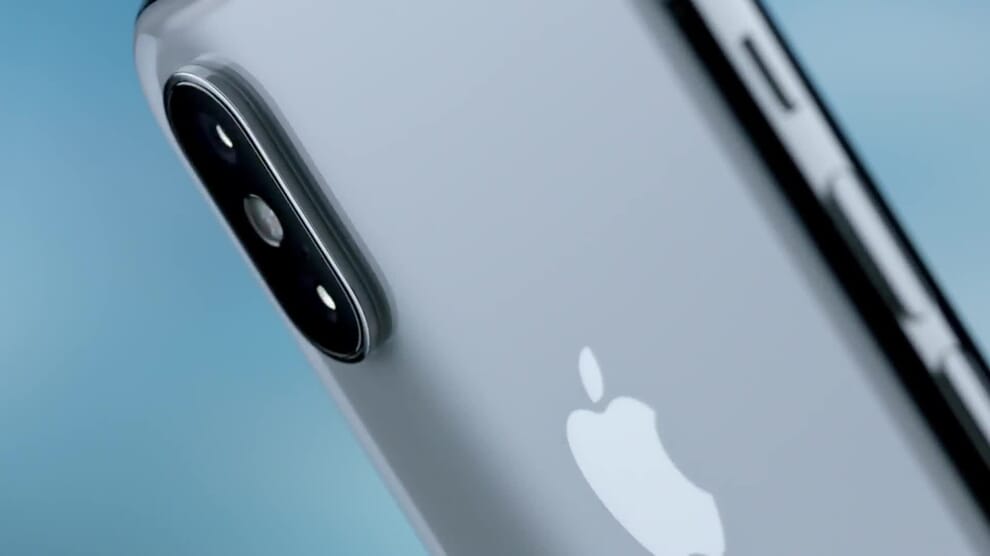 This journey of discovery began when I placed my order.
Buying the iPhone X
I am a child at heart. I love my gadgets; they are toys for grown-ups. It is hardly surprising then that I was beside myself with the launch of the iPhone X or that I was wide awake at 8 AM ready to place my order here in the UK the moment they were available.
However, despite placing an order within 5 minutes, I didn't manage to secure a day one delivery date, but instead, had to wait an extra week. I was crestfallen until somebody on Twitter pointed out that Carphone Warehouse promised a delivery date of the 3rd, the day of release. Without a moment's hesitation, I preordered with them too.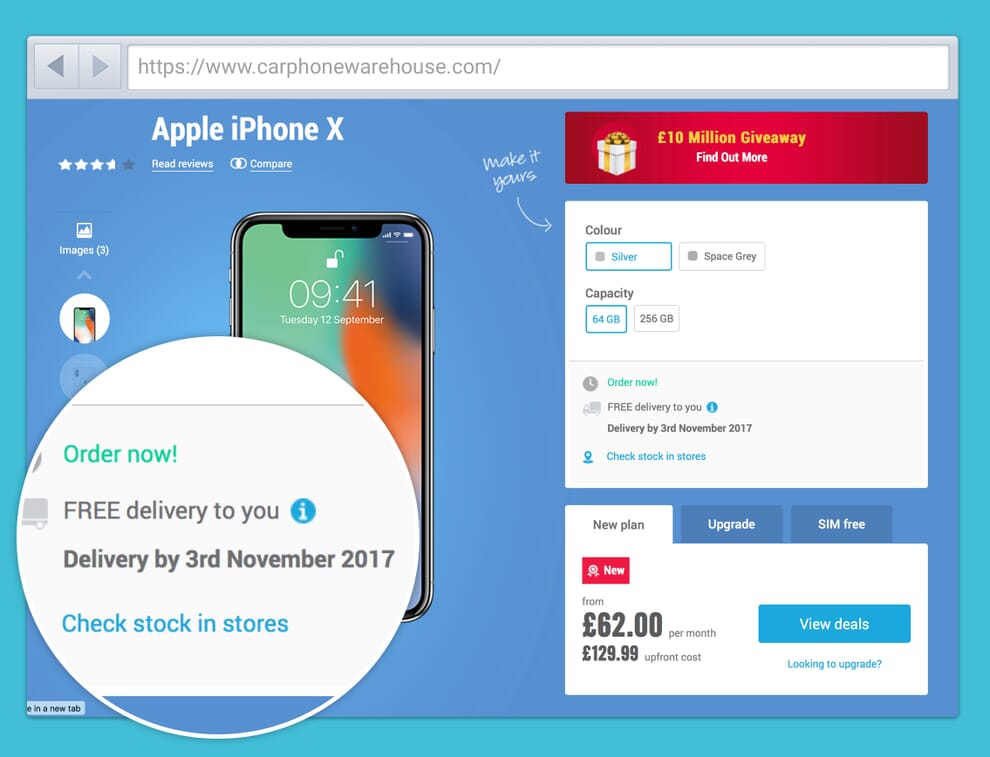 However, I didn't cancel my Apple order quite yet. After all, it seemed suspicious that Carphone Warehouse would be able to fulfil my order before the manufacturer.
Sure enough, when I received my email confirmation, the "delivery guaranteed by the 3rd" found on their website had changed to "expected by the 3rd" in the email.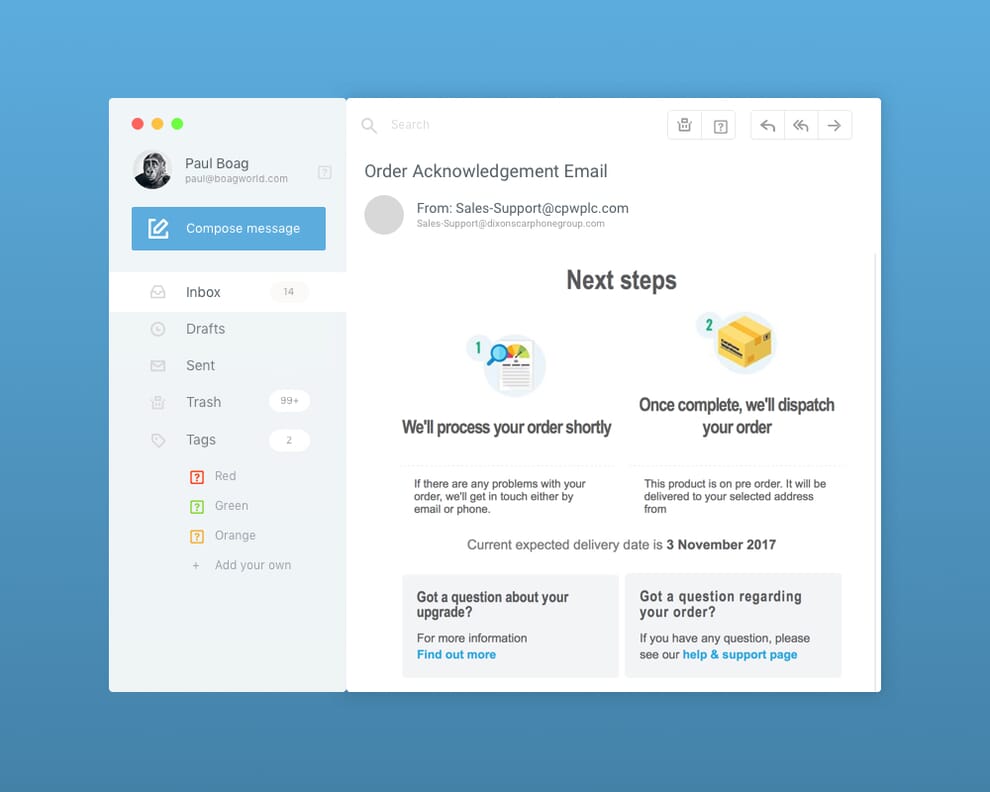 So we learn our first lesson, consistent messaging matters. Users want reassurance, and consistent messaging helps provide that.
That immediately left me concerned. I wanted to know whether I was going to get my iPhone X on day one or not, so I went to the Carphone Warehouse. Unfortunately there was no way I could check my order on their website.
That leads us to our second lesson; users want to feel in control. Do everything you can to empower them with self-service.
I wanted confirmation of my order and yet I had no way to get any more information. There was no way I was going to phone them on the day the iPhone was released. I knew that if I did, I would be sitting on hold for hours. Neither did they offer live chat that I could see. In the end, I tried Twitter.
I did get a response back, but it did nothing to reassure me. For a start, it was apparently a canned response. Secondly, it didn't answer my question but instead told me that the current estimated delivery dates were a week after release. But did that apply to the order I had already placed? I was none the wiser.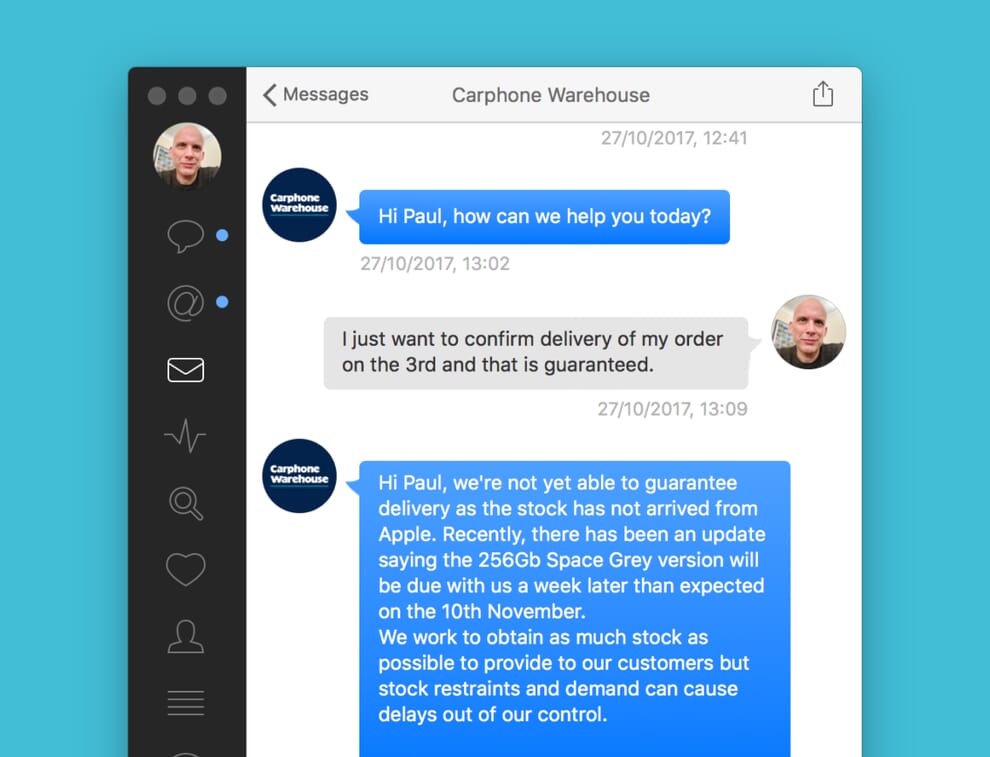 So enters our third lesson; make sure you are answering the questions users are asking. Don't make presumptions about what people want to know.
At this point, I gave up and decided just to wait and see what happened. The day before my estimated delivery I still hadn't heard any news. By now I had pretty much given up. I reasoned that they must have known at this point whether they had stock. If they could fulfil wouldn't they have contacted me?
In fact, they did have stock and I received my phone the next day. But the first I knew about this was an email from the company who would deliver it.
We now have our fourth lesson; keep users informed at every step of the way. Even if you cannot confirm something, at least tell them that. Don't leave them wondering.
Once I had my hands on the iPhone X, the user experience started improving dramatically.
Living with the iPhone X
I am the first to admit I am an Apple Fanboy. I also acknowledge that nothing about the iPhone X is new. OLED, Face ID and wireless charging have existed in the market for some time. But as always, it is the experience that Apple has created with the device that sets it apart.
That in itself is another lesson; technology never creates a superior experience. It is how we implement that technology which matters.
First, let me take a moment to talk about Face ID. There has been a lot of talk about its flaws, but from a user experience perspective, it is a masterstroke. That is because it is nearly invisible.
In the past security has always been a barrier on the iPhone. First, we had to enter a pin. Apple improved on this with the introduction of Touch ID. But once again this still required an interaction on the part of the user. However, with Face ID, the need for user interaction is heavily reduced.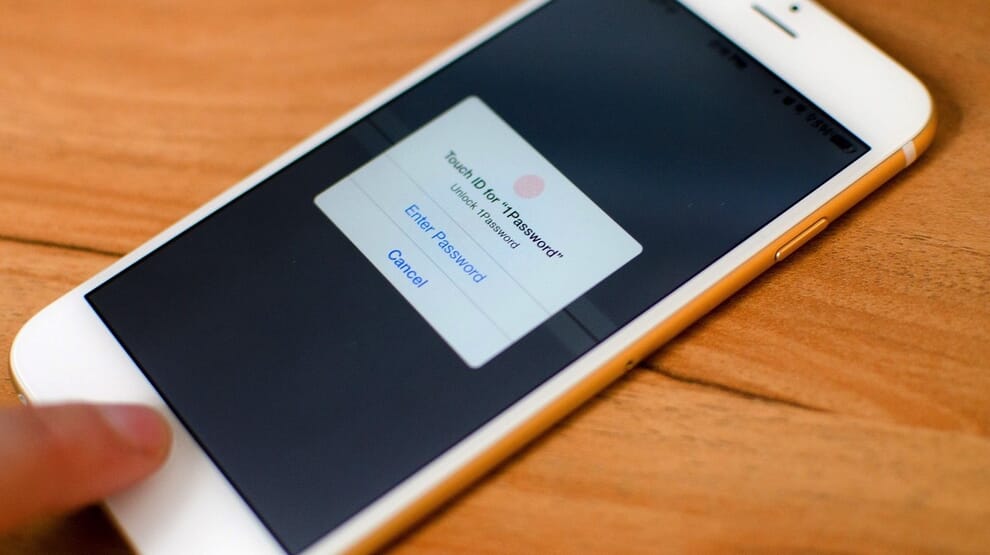 When you pick up the phone, you don't need to unlock it. You just start using it. When you go to a website where you have to type a username or password, the phone verifies you with Face ID and enters the details automatically once you log in the first time. So it goes on. Security has become invisible.
That is our next lesson; The best interface is no interface, so where possible automate user tasks.
Another significant change is the removal of the home button. At face value, this seems like a bad move from a user experience perspective. It has, after all, removed a significant interface element with which we are all familiar.
I will admit that this has caused me some pause for thought and in fact made some interactions more difficult (like resetting the device when frozen). I have also suffered from muscle memory, where I repeatedly reach for a home button that is no longer there. However, I can already feel that fading, and it is a price worth paying for the long-term gains.
The removal of the home button has created a much more direct interaction with the interface. It feels more intuitive and natural. The powerful processor helps make the interface feel fluid. Also, the subtle use of animation and haptic feedback helps.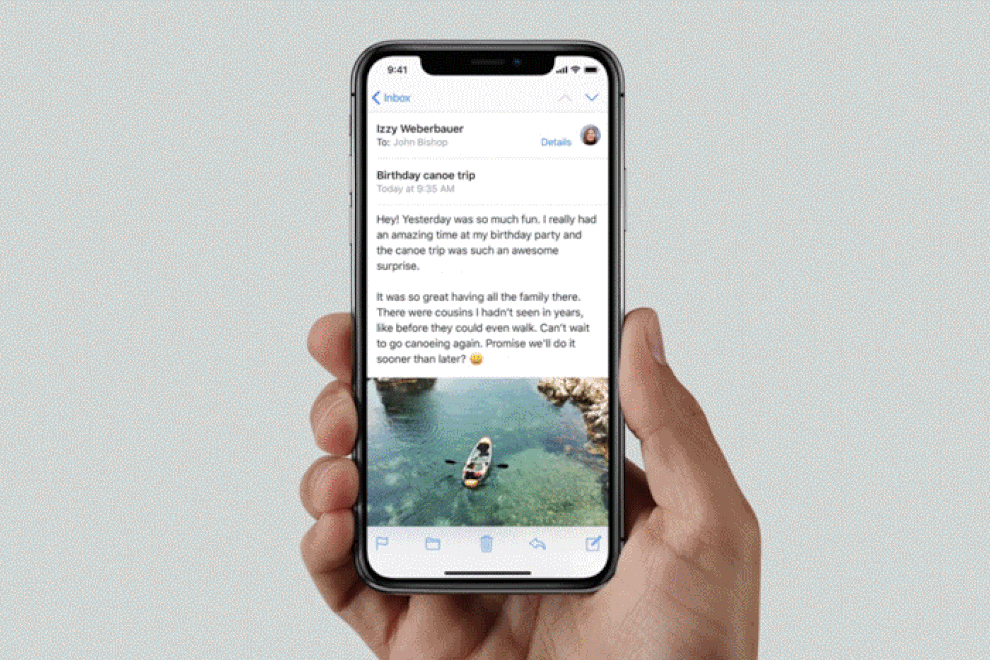 One shrewd decision Apple made was the addition of the line indicator at the bottom of the screen. When you reach for the now non-existent home button, you find this instead, which jogs your memory. Also, this subtle indicator helps orientate the user and give them that clear visual indication they need.
The lesson here is a tricky one; Don't be afraid of changes that make interactions more natural and intuitive.
You can only describe the overall experience of using the iPhone X as frictionless. The iPhone never felt particularly challenging to begin with. But this release has worked hard to smooth off the rough edges that did exist. Face ID, in particular, goes a long way to doing that. But speed, changes in the interface and the edge to edge display all help the interface to melt away, and the content and functionality come more to the fore.
If I could summarise the entire experience of buying and using the iPhone X it would be this; do all you can to make the user experience as frictionless as possible. Everything else follows that.