The Interaction Design Foundation is not another Silicon Valley startup trying to flog you second rate online training. They are a well established not-for-profit seeking to increase diversity in the UX community through affordable quality education.
This post is sponsored by the Interaction Design Foundation.
Education is the single most powerful way to lift people out of poverty and change lives. Our vision is to create a sustainable model for equal opportunities to education and to improve the design of technology. It is our vision to give everybody absolutely free access to educational materials in the highest quality possible – whether they live in New York or New Delhi.
When I read the above quote from Rikke Friis Dam, the co-founder of The Interaction Design Foundation (IDF), I knew I had found a kindred spirit. But even if you don't share my passion for education, you will want to know about what this group has to offer. They have a huge, free repository of quality UX education, yet the chances are you have never heard of them.
I cannot believe that the Interaction Design Foundation has been around since 2002 and until recently I had never heard of them! Perhaps I am alone in that. They are certainly not small, with 464 local groups in 85 countries. What is more, they deserve our attention, because they are offering the entire UX design community a quite incredible resource!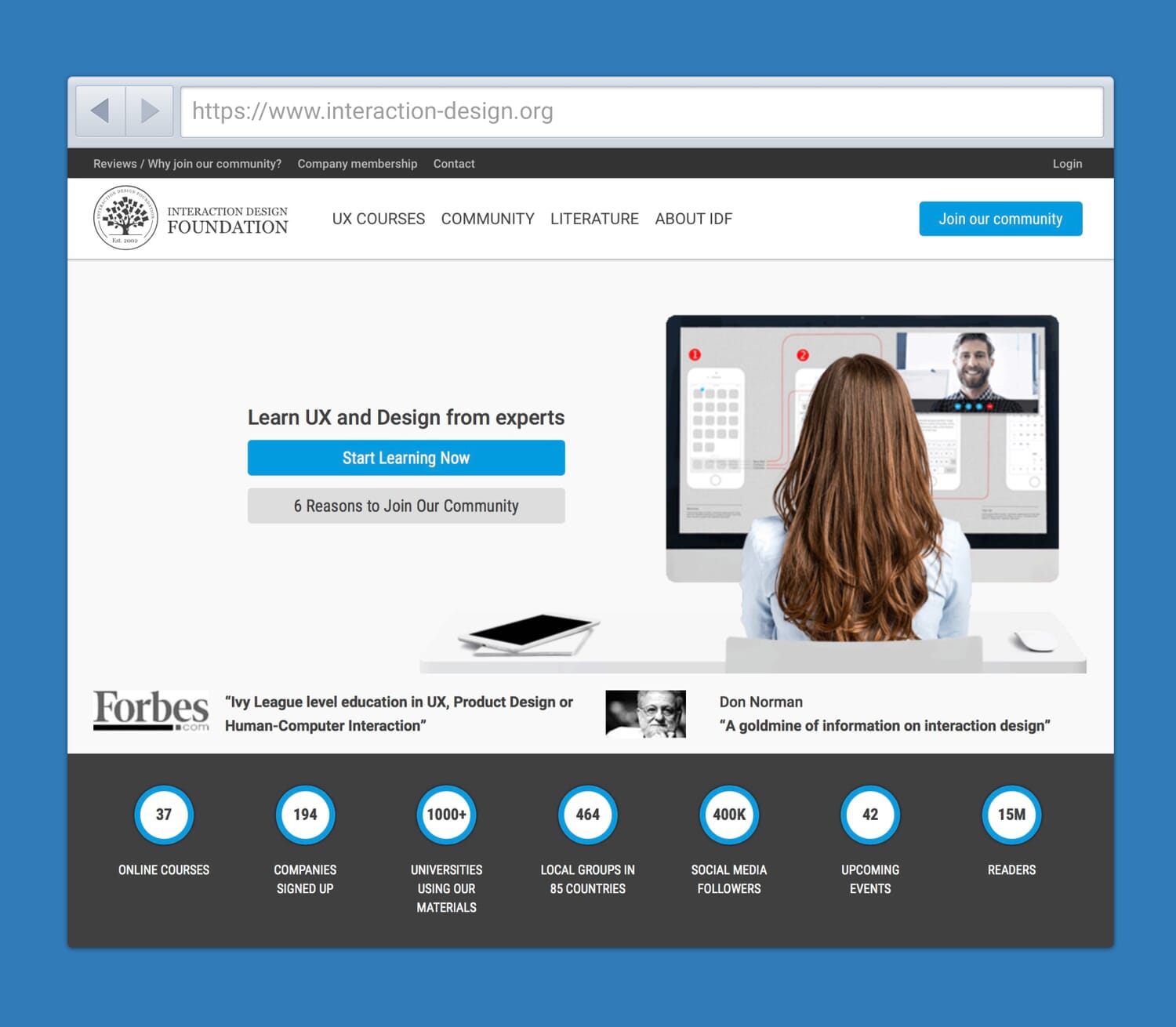 I want to give you three reasons to give this group your attention:
They are offering you a vast repository of open source UX knowledge.
They have an exceptional commitment to producing the highest quality.
They have a worldwide, vibrant community you can join.
Let me delve into what they have on offer.
1. A huge repository of open source expertise
The Interaction Design Foundation isn't just another blog on UX design. Sure, they publish daily articles, much like any other blog. But that is the tip of an enormous iceberg.
They also offer the largest bibliography on human-centred technology, containing 128,000 authors in more than 138,000 publications.
Then there is their Encyclopaedia of Human-Computer Interaction. 4000+ pages that cover the design of interactive products and services like websites, household objects, smartphones, computer software, aircraft cockpits, you name it.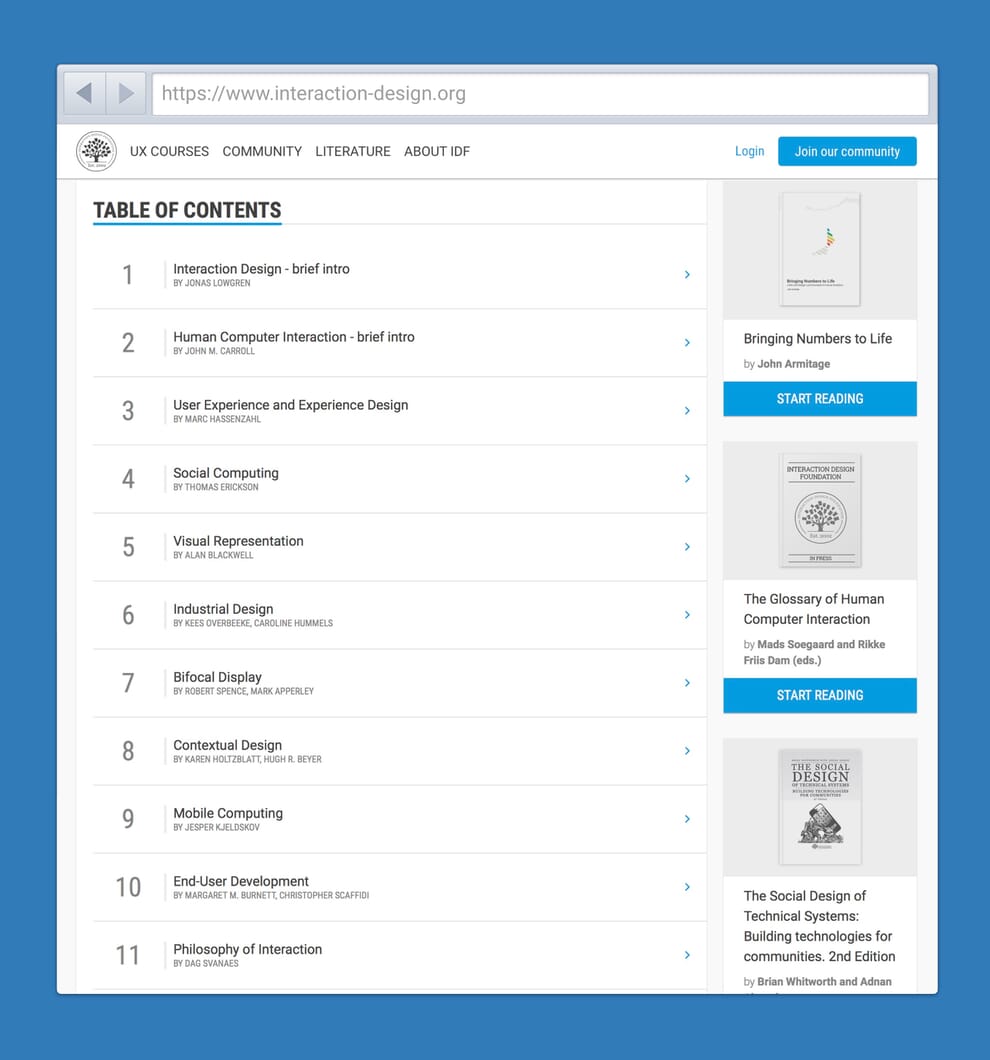 Did I mention this was all for free? It's absolutely staggering and frankly overwhelming. It is a goldmine for anybody, but particularly valuable for those who cannot afford expensive corporate training or over-priced niche books.
You would be tempted to think the free price tag would come at the cost of quality, but from what I have seen that is not the case.
2. An exceptional commitment to the highest quality
You look at the list of authors they have, and it is like a who's who of user experience design. From Don Norman who coined the term user experience to Clayton Christensen who serves as a senior advisor to the Whitehouse or Irene Au who was global head of UX and Design at Google. People who are not just authors, but intrinsically involved in making the foundation a success.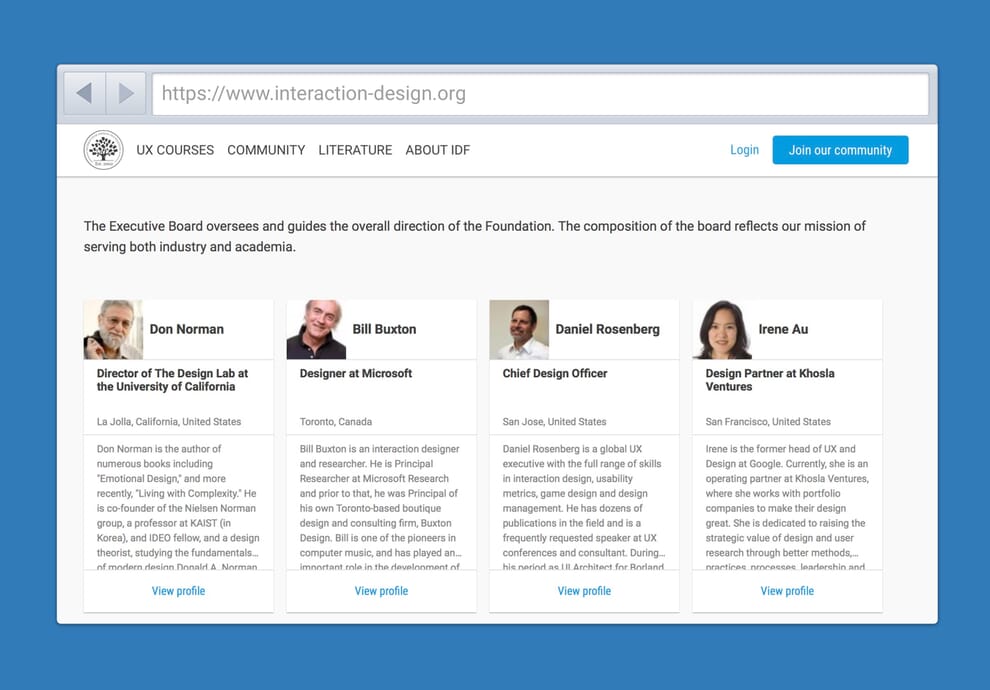 The content ranges from a solid introduction to every conceivable topic on UX, to the most advanced academic research which, quite frankly, largely went over my head.
All of this in-depth, high-quality content is almost too much at times. It feels like spending months eating healthy, rounded meals when all you want is a McDonalds! Fortunately, they have some more fast food options too in their daily blog. That will come as a relief after reading over 18,000 words on ethnographic studies alone!
Joking aside, they take their content incredibly seriously. IDF fly all over the world to interview and record leading figures in the field, material they then make completely free to watch or read.
Their investment in securing the expertise of leading figures in the sector is admirable. But what impressed me more is IDF's dedication to building a community of UX professionals.
3. Not just a reference source, also a community
The truth is most of the best career opportunities comes from networking, not applying to a job ad. That is why attending community events like these is essential for building your career. That is where you meet your next employer, client or colleague. Not to mention, establish real friendships and have a chance to learn from your peers.
But finding an event near you is hard. I live in the heart of rural Dorset and so attending a community event often involves travelling for the day to London. That is where the Interaction Design Foundation once again impressed me. With 464 meetups, it turns out they have one just 30 minutes down the road from me!
It is not just a western thing either. IDF have events in 85 countries, including many developing countries. They are obviously committed to their mission of sharing top-grade educational material. In fact, they even have a guy cycling 30,000 miles sharing that expertise!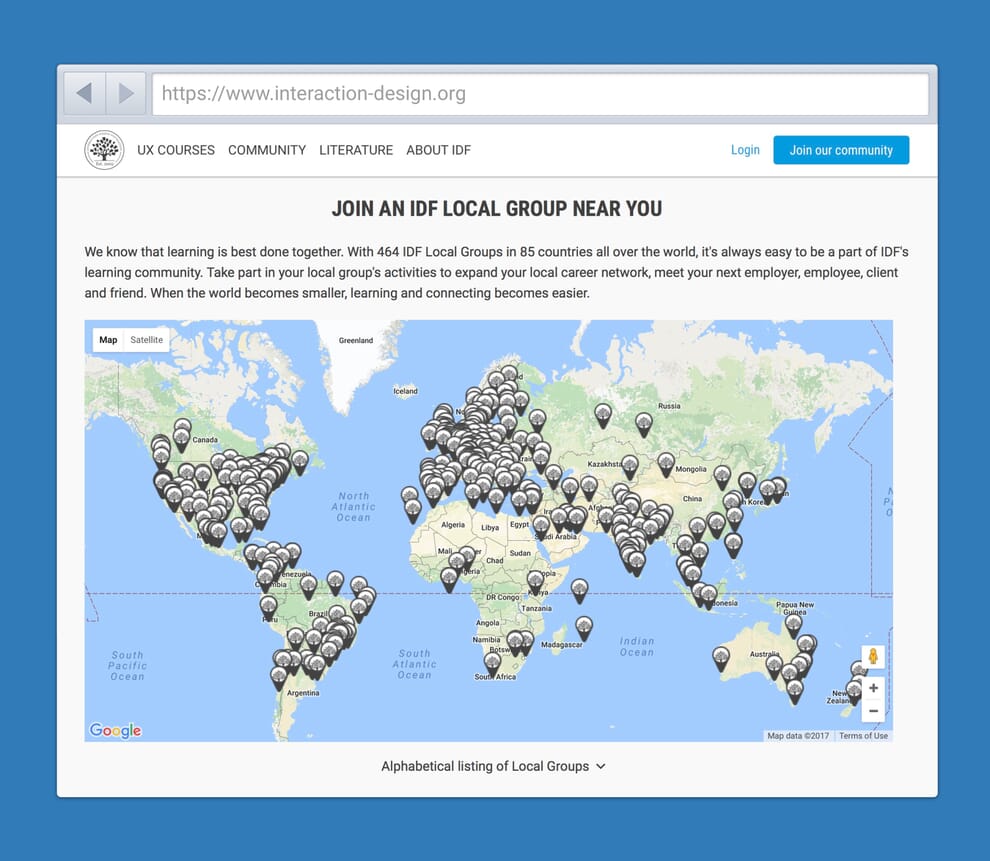 To my mind at least, this is a cause worth supporting. But the most exciting thing about helping IDF is the incredible returns you can personally get from it!
A cause worthy of support from a purely selfish standpoint!
At this point, you might be wondering how IDF pay for all this. Well, they raise the money through their members. Either you or your company can join and help support this amazing work.
But the returns for becoming a member are a lot more than just a feel-good feeling. For a start, you get access to over 30 UX specific self-training video courses. Substantially more than you will find on any of the other learning platforms out there.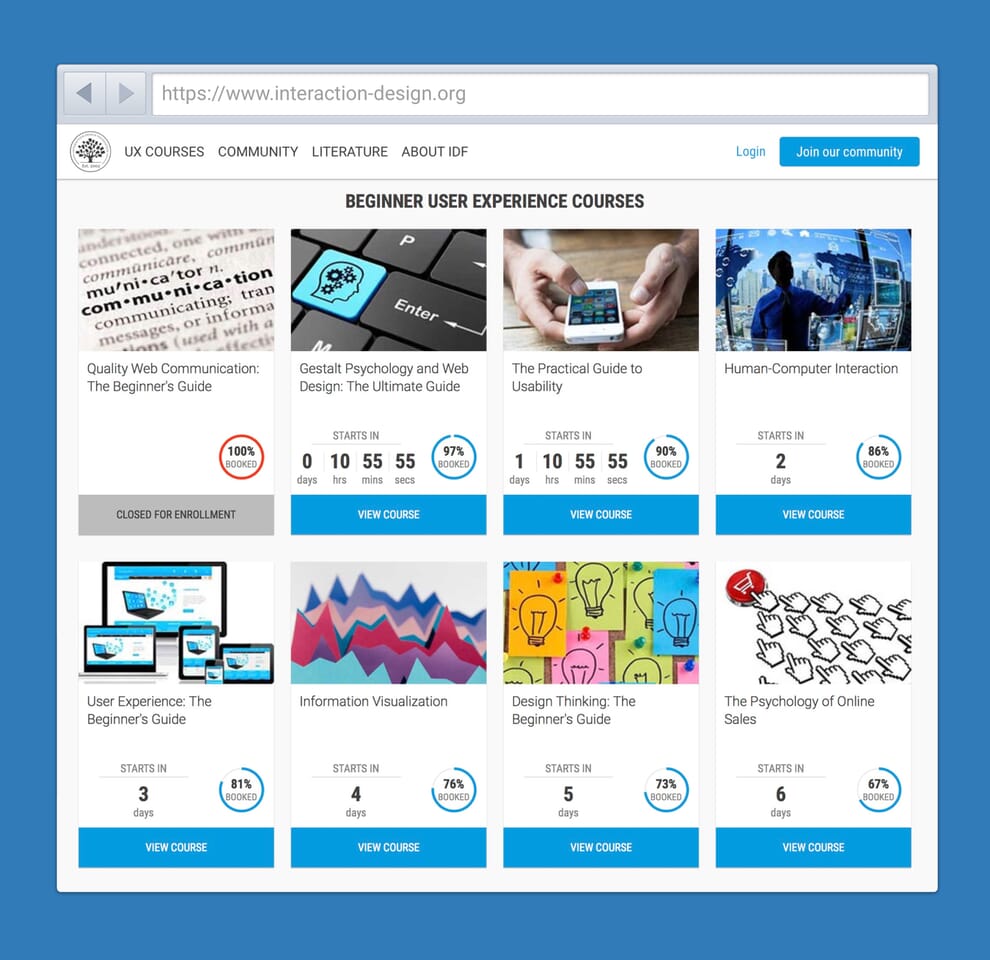 You can also get course certification, careers advice, a profile page that promotes you and more.
But here is the great thing, how much you pay is dependent on your situation. For example, you will pay slightly more in western countries than you will in the developing world. But even as a western student, you can get membership for a staggeringly cheap £6 per month. That makes them better value than any of their competitors, despite having far better content.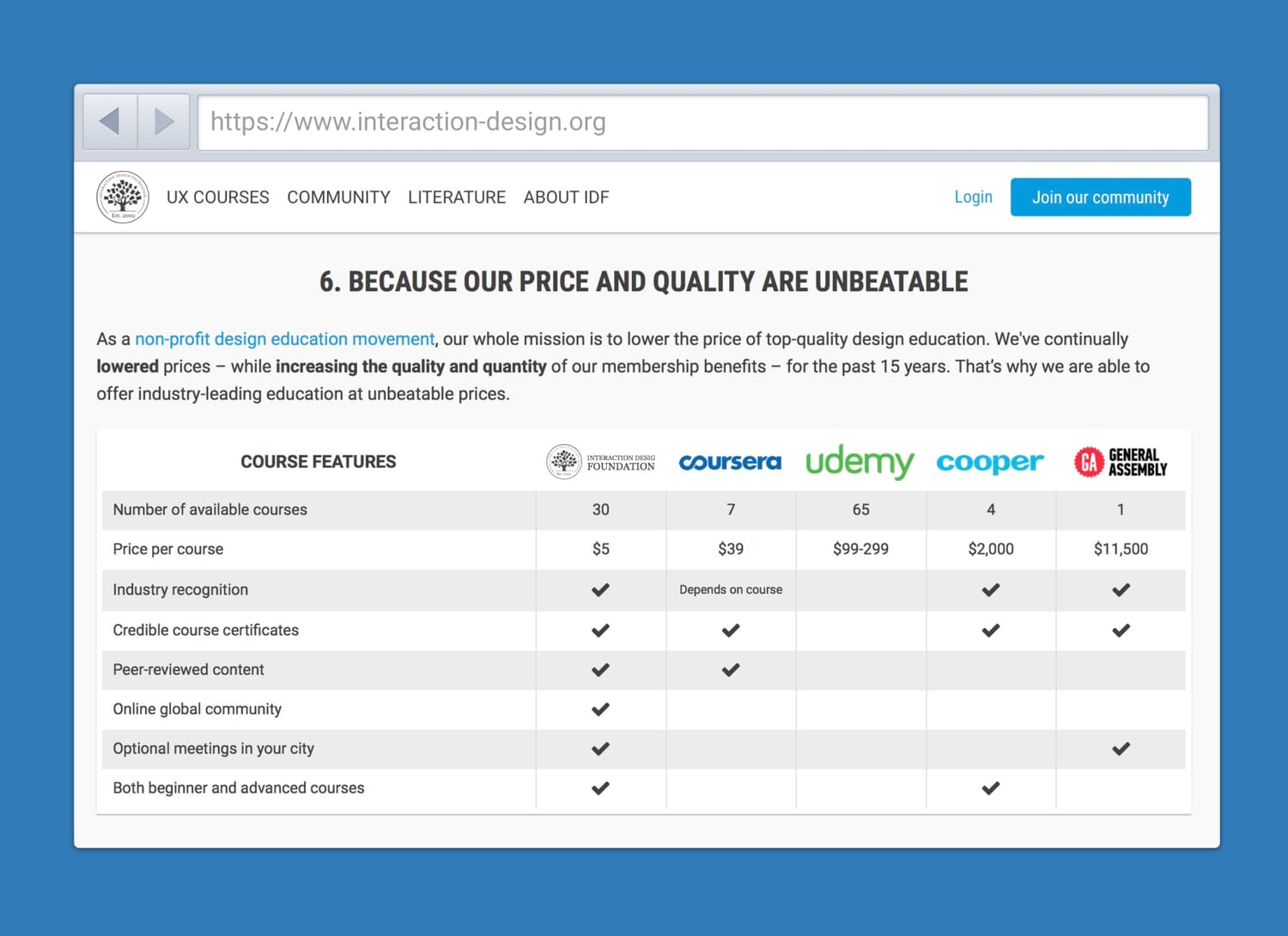 There is a lot of talk about the need for more diversity and viewpoints within the user experience industry. That is a valid point. Only then will we be able to create products and services for people with different experiences to our own. But that is a lot more than diversity in western countries. That means nurturing worldwide UX communities, and that is the work IDF is doing.
I for one am proud to be involved with these guys and hope to become more so in the future. I would encourage you to do the same. Join today; they are even offering you three months for free just for getting to the end of this post!