If you are a freelancer or agency owner, the ability to sell your services is essential to your survival. Unfortunately, few invest the time and money into doing it well.
How do I sell more and how do I increase the value of my projects? These are two of the most common questions I hear as I mentor owners on running their businesses.
The ability to sell is one of the most critical skills you need if you run your own business, and yet few of us have any training in it. A single post isn't going to teach you everything you need to know about sales. But I do want to share three tips that I have found useful in my own business.
Let's dive in with tip number one.
1. Dedicate Time to Business Development
What percentage of your time needs to be chargeable to make a profit? If you don't know or it is higher than 50% of your time, then the chances are you are neglecting sales.
It will take time to manage sales well. That is time you cannot afford if you have to work all hours because your charge out rate is too low.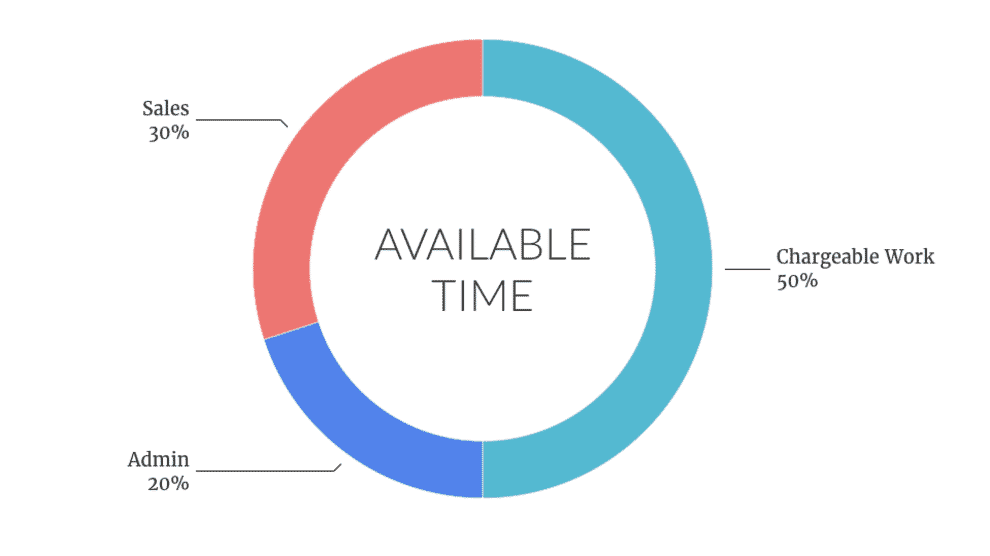 In my business, I presume that only 50% of my time will be chargeable to client work. I spend the rest doing admin, marketing and… yes… you guessed it, sales.
That means you need a charge out rate high enough to cover your costs when only charging out half your time.
You need to be able to set aside dedicated time each week to work on business development. That could involve anything from marketing to writing proposals or pitching. If you cannot do that, then you will live in fear that work will stop walking through the door.
Business owners who do not do regular sales activities tend to live in a constant state of feast or famine. When the work dries up they go into a frenzy of sales activity. But, when work then comes in they stop selling, and so the work dries up again. This boom/bust cycle is bad for cash flow and terrible for your stress levels.
Instead, set aside as much time as you can for business development and establish a routine.
2. Pursue a Lead to Destruction
Tip two is to "always pursue a lead to destruction". That is a saying my dad taught me when I first started to run my own business.
He had been in sales for years and explained that too many salespeople give up on a prospect too early. He argued that you should keep following up on a lead until they say no. I couldn't agree more.
Often a lead will go quiet on you. They stop responding to your emails, but that doesn't mean they are no longer interested. It is important to remember that these people have a lot on their plate. Hiring you is going to be one thing on a very long todo list.
By keeping in contact every few weeks, you ensure you do not fall off their radar.
Of course, do it with sensitivity. You don't want to come across as annoying. Ask them if they would prefer you to stop emailing, or if they would like a reminder at a particular time. Say that you don't want to be annoying, but neither do you want to sound disinterested. But whatever you do, do not give up.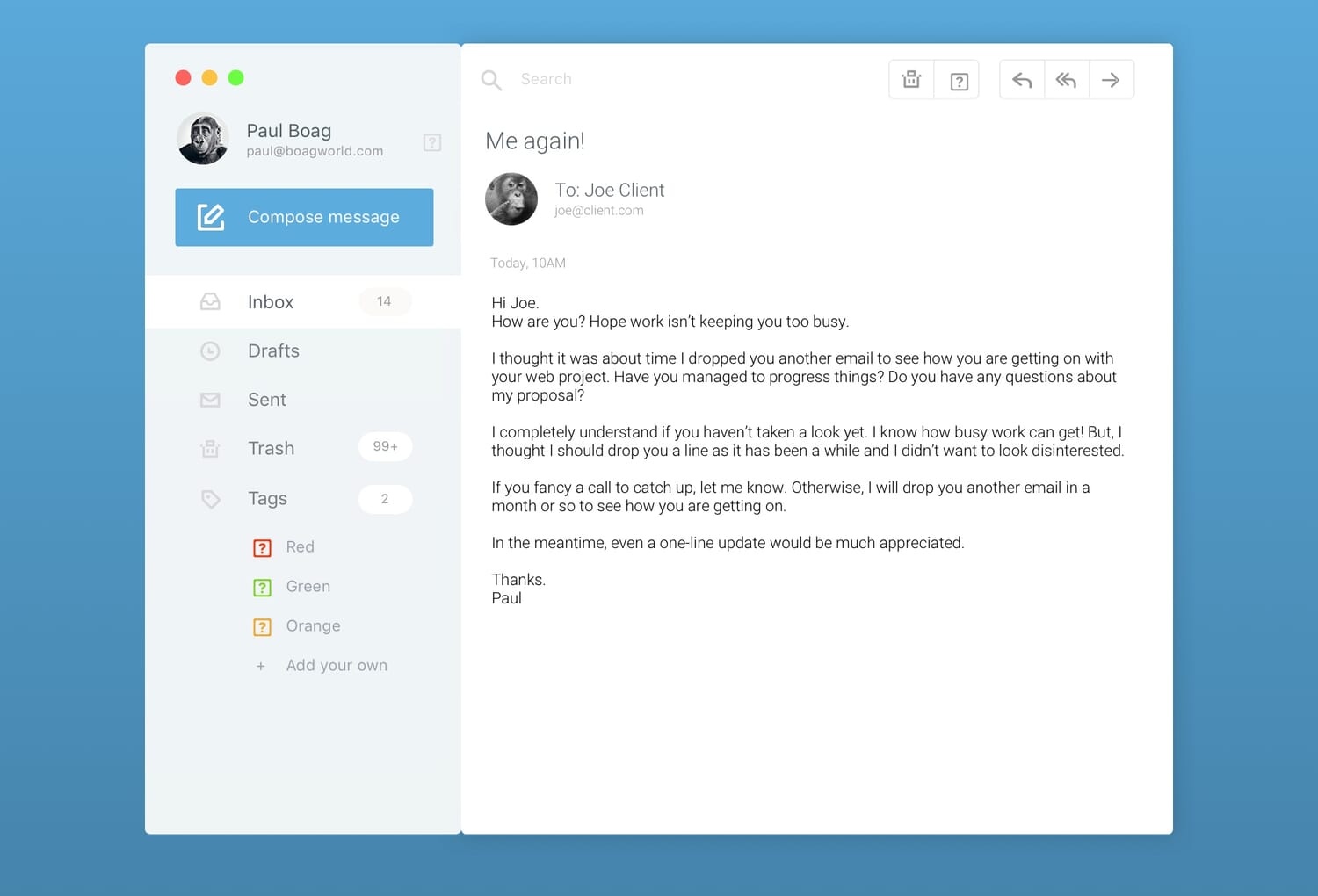 By way of an example, I had somebody contact me in April about some training before going quiet. I followed them up several times over the following months with only limited success. In fact, we have exchanged 16 emails in total, and I eventually closed the deal yesterday!
3. Use the Right Tools for the Job
Finally, I would recommend that you make sure you have the right tools for organising your sales. There are so many excellent tools out there from proposal writing tools like Qwilr to an email client like Spark.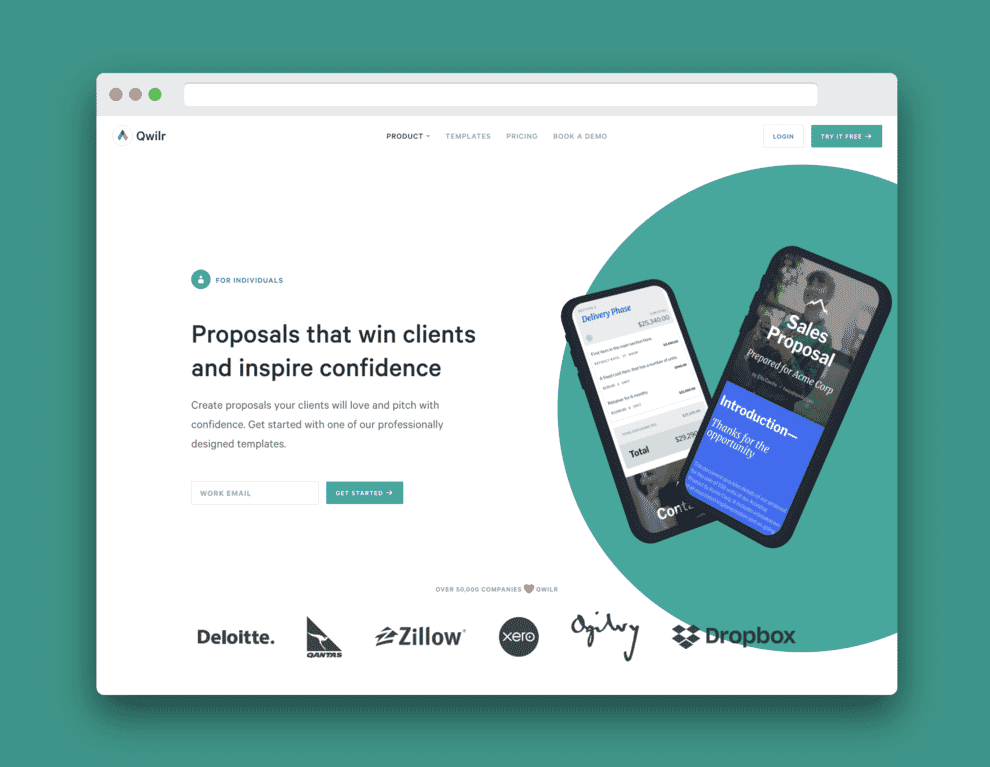 But, the one tool I want to recommend is Pipedrive. I use Pipedrive to manage all my sales activities, and I want to highlight three features I particularly love here.
Forecasting Upcoming Sales
Pipedrive allows me to see all upcoming deals for months ahead. I can view both deals I have already closed (marked in green) and ones that could complete in a particular month. That allows me to get a sense of revenue over the coming months.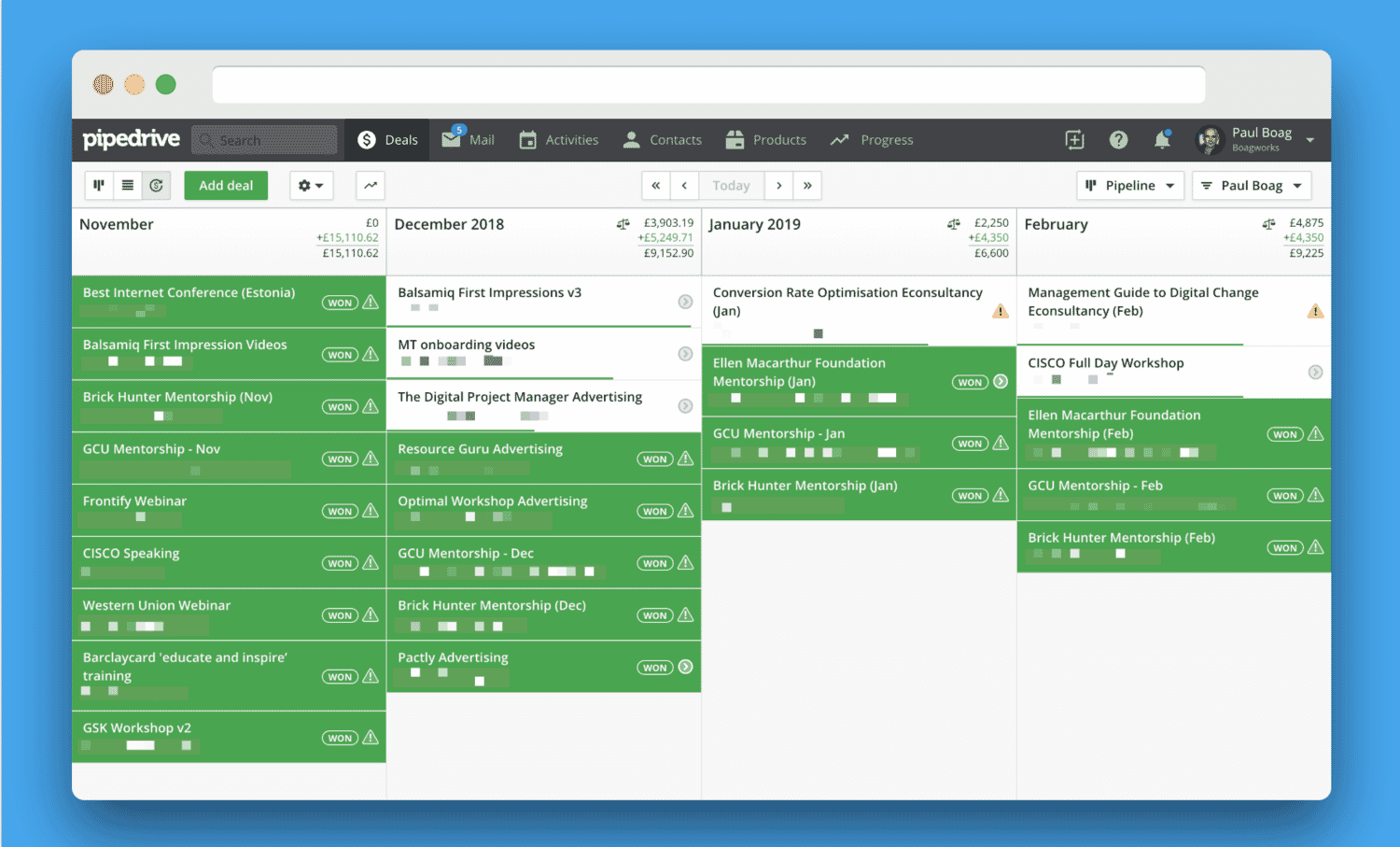 But, Pipedrive also offers the ability to display deals in other ways too. For example, I have my deals organised into the likelihood of converting. That gives me a sign of how healthy my pipeline is. But it also avoids me having a false sense of security if I have lots of low-quality leads.
Activity Reminders
One of the most significant problems with sales is remembering to chase prospects. Pipedrive allows you to schedule activities. These might be arranging meetings, calls or emailing prospects.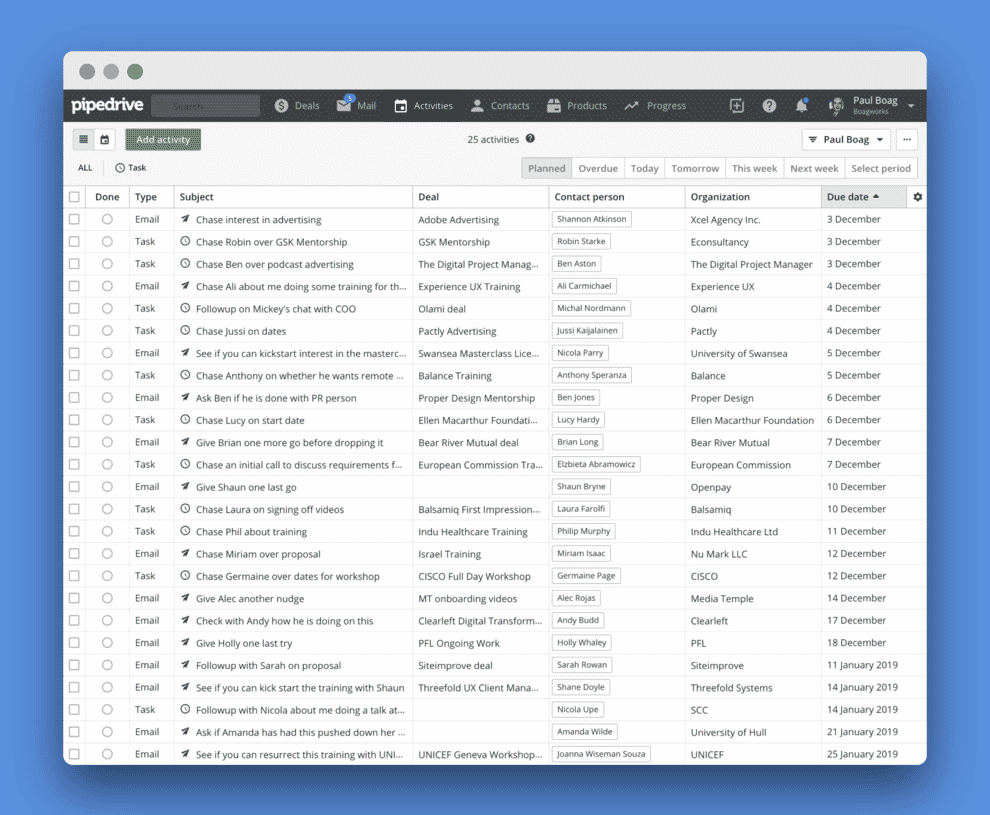 Every day I log in to Pipedrive, and I can see who needs chasing. It also gives me notes (including all previous emails) to remind me of where the conversation has got to.
Email and Integration
The final feature I love about Pipedrive is its email management. It integrates with Gmail but also gives you a Pipedrive email address. You can then BCC Pipedrive in on any emails you send to a prospect. That enables you to see all the emails related to a deal or person in Pipedrive.
You can also send and receive emails from Pipedrive if you wish. That has some advantages over using your email client. For example you are able to see when people have opened one of your emails or clicked on a link.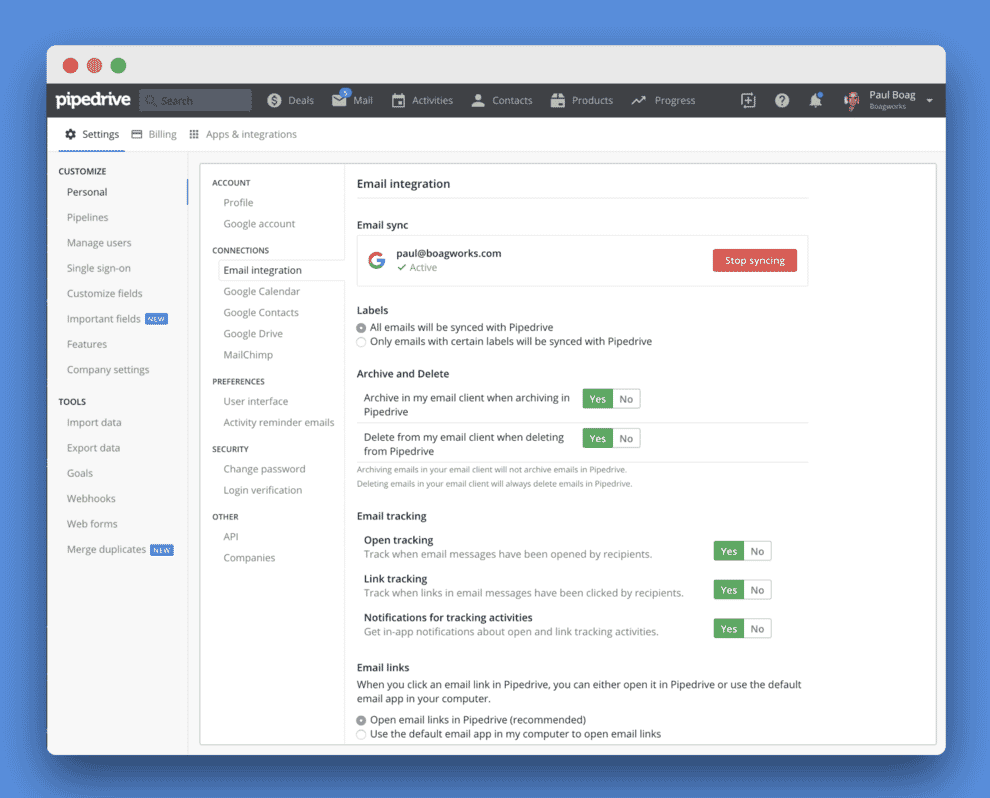 Make Sales Effortless
There is so much more I could write about sales and Pipedrive. It is an understatement to say that Pipedrive has transformed the way I manage my prospects. Yes, you could use tools like Trello, an email client and task manager to do all the same things. But having it all together in one place and so well integrated is so easy.
Ease is what we need when it comes to sales. Time spent on business development is time that you are not charging out. By making it easy you can charge out more hours, and it is more likely you will stay on top of your sales activities.
This post contains affiliate links for Pipedrive.
Stock Photos from OtmarW/Shutterstock