Website design is the exciting bit of the project. But, contrary to how most agencies work though, Wordpress Help & Support can be the more lucrative part.
Website support and maintenance is the stuff that happens after your client's website goes live and it's very easy to see it as something unimportant. This post will outline why you should think about generating a regular monthly income from your WordPress support offering.

I'd like to make the case that website support and maintenance is just as important as the build bit and isn't something you should neglect or ignore.
Why Should You Offer WordPress Support?
Good question. Why should you? There's a few reasons why, as an agency, you might want to think about it:
It's a great way to generate a monthly recurring revenue. Your business becomes more stable financially and you can spend time offering a better service to your clients
Eventually, your client will want to make more substantial alterations to their site. You'll understand their business better than anyone, so they'll come to you for it
It's more cost effective than the traditional agency model. It's far easier to systemise and productise support than the design and build of wordpress websites. This means it's a far more scalable offering, and therefore more cost effective
Building partnerships is better than transactional relationships. If you really want to help your clients, you want to be on hand past the initial design and build. That's where the great stuff happens for both of you
How Should You Make the Case for WordPress Support to Your Clients?
Part of the problem in developing a WordPress support offering is explaining why it's useful. This section's aimed at helping you to explain it.
Selling to Your Client Why WordPress Support Is Important
Do you regularly have your car serviced? If you do, my guess is it's because you'd rather pay a small amount to spot any problems early and try to prevent bigger bills later on.

Do you have breakdown cover for your car? If you do, my guess is it's because, if the worst happens, you want to know you've got someone on hand to get the problem sorted and get you back on the road ASAP.

Putting in place a support package for a website is the digital equivalent of having your car serviced regularly and paying for breakdown cover. It gives peace of mind that you're protecting your investment.
Selling to Your Client the Maintenance Aspect of WordPress Support
Maintaining a website, by contrast to supporting it, is all about keeping it up-to-date so it's an accurate reflection of your business.

There are two reasons to do this.

Firstly, because an out-of-date website is bad for your reputation. (A News page that was last updated in November 2 years ago is never a good look.) And besides which, every business changes from month to month and year to year. If you don't update your website it will reflect your business as it was then not as it is now. Any leads that do come through it will probably be the wrong ones.

Secondly, because search engines like websites that are well-maintained and up-to-date. By keeping your website up-to-date you're helping your SEO chances. Who doesn't want that?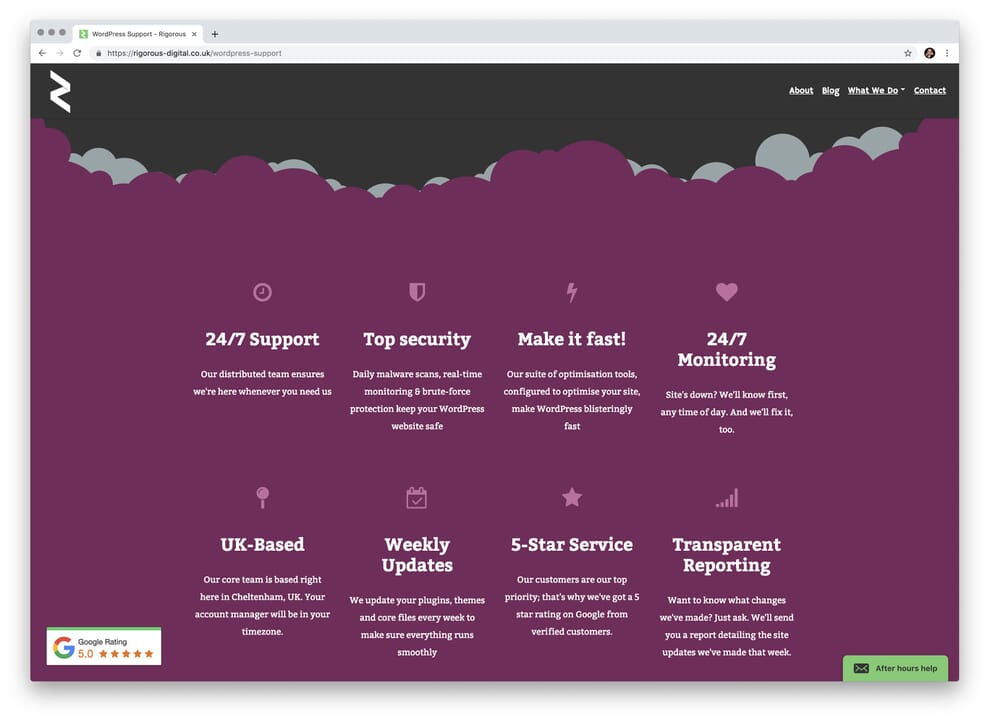 If you've got a WordPress website, maintenance is something your client probably does in-house already, although maybe not as often as they should. They might also wonder whether the updates they're making are really delivering the best possible results for their business.

Regular website support and maintenance is something that protects and builds on your client's investment. It might not be exciting, but it's certainly important. It's also a great opportunity for you to build lasting, valuable, partnerships with your clients.
Selling to Your Client the Security Aspect of WordPress Support
One of the worst things the can happen to your client's site is getting hacked. This can mean:

Nasty emails, sent from their server, resulting in their server getting blacklisted
Their website being down due to a piece of code which is often hard to find and remove
Their website redirecting to another site (blue pills, anyone?)
Data theft, which at its worst can result in litigation against your client by their customers
Ransomware; an attacker encrypts your client's data and then forces them to pay to have it unencrypted
With a good onboarding process, you client's site should be secured against these attacks. Whilst you can never be 100% hack-proof, a good security setup with regular WordPress core, theme and plugin updates should stop 99% of all attacks.
Selling to Your Client the Backup Aspect of WordPress Support
We've all been there. It's Friday afternoon and someone's updated something they shouldn't have. Suddenly, everything seems to be broken and it's all hands on deck fixing all the issues. Even worse, sometimes things have been lost forever.

The point of a backup is that it's there if any of the following happens:

Hacked: The site gets hacked and the damage is irreparable
Broken: An update goes wrong
Deleted: Customised files in a theme or plugin get overwritten accidentally
Recover: Multiple changes to content mean that it would be easier just to recover a point in time
With a regular (and we're talking more often than nightly here!) backup routine, this can be solved in minutes. Proper WordPress support companies will take care of backups (offsite) for you and be able to reinstate the website at a point in time with the click of a button. No more crazy Fridays.
How to Find Clients for WordPress Support
There's a few ways to sell support:

New leads sell it to new prospects that come in via your website, business networking and the like
Outreach Actively seek out customers you believe need this service, get in contact and try to get them to sign up
Partnership Partner with an organisation whose customers are a natural fit for your support offering. Preferably a partner who's going to marketing your offering to their customers for you
As an add-on Chances are your agency is already designing and building websites; try selling into existing customers.
Number 4 is by far the easiest option and the one most often touted as the way to build your support business as an agency. Let's focus on that.
Selling Your Support as An Add-On to WordPress Design
You've won the big website project, built the website and now it's gone live. Your next step should be to think about what you can do next to help that client, rather than moving on to the next one.
Start off by developing an email you can send to your clients after their new site's gone live. The ideal point is just before their amendments period ends; it's a good point to be sending out an communication that their amendment period is ending anyway, so it's the support conversation is a natural fit.

As time goes on, start building your support offering into your quotes and proposals. Doing this as a lump sum for a set amount of time seems to work best (e.g. 6 months support); this gives you enough time to really show them some value and for the client to get used to the benefits of having it in place.
The Reasons Clients Buy WordPress Support
Your clients don't want another monthly outgoing and they don't see the benefit of getting their site's plugins and themes updated. It's down to us to propose something that really speaks to them. Here's a couple of points that have resonated well with our clients in the past.
Support Improves Your Search Engine Optimisation
One of Google ranking factors is speed; so much so they built a whole website dedicated to testing your page's speed called Google PageSpeed. If you offer this service correctly and as a part of your onboarding process, you'll automatically be improving your client's changes of ranking well on Google.
Ongoing Support Spreads the Cost of Development
This one often works with clients that have an existing relationship with a developer or agency where they're getting charged on an adhoc basis. Generally speaking, it's easier to spread the cost of changes on a monthly basis then to have a large lump sum each time changes need to be. It also affords the client the ability to make more changes (to functionality, design and content) than they would otherwise be able to do.
We're Your Website Department
Sometimes businesses just have a website because they have to. They don't necessarily understand how it works, but they need it to support their overall marketing effort. They'd like to have someone they can delegate the website to and know that it's in safe hands. This involves a little more proactivity on your part; you'll need to make sure best practices are being followed and that you're ready to help make suggestions to the client about what they could do next (ideally, with the minimum of confusing details).
Legal Compliance
With the advent of more and more legal oversight of websites, it's hard to keep up with what's needed. Things like

What needs to be displayed on each page? What business information am I required by law to show on my website?
What legal pages are required? Do I need a privacy policy/terms and conditions/cookie notice on my website?
General Data Protection Regulation. Is my website GDPR compliant?
Owners of a website don't expect you to be a solicitor or lawyer, but they would like to rely on you to have a cursory knowledge of what's required and how it can be implemented.
Increased Revenue
This one's more of a benefit to ecommerce websites, but it often applies to websites looking to get leads via their website too.

Your client's website is a key part of their business; investing in it should return higher dividends. For ecommerce clients, you could be offering more specific services to foster that; UX assessments and design, functional improvements, conversion optimisation and other such services. These are all desirable services that will demonstrate why a higher monthly cost is worth it to your potential client.
How to Build Your Own WordPress Support Team
So now you're committed to the idea of repositioning your agency around WordPress help & support, how's best to go about building a team to provide it?

Most agencies do one of a few things here

Do it all yourself
Leverage an existing team who are currently designing and building sites full-time
Create a new team within the agency dedicated to support clients
Outsourcing the support, whilst managing it internally
Fully outsourced; support requests go through to a white labelled team who deals with your client directly
There's clear pros and cons to both, but most agencies start at either 1 or 2 in the list above and gradually progress to one of the latter three options.
Why You Shouldn't Use Your Existing Developers
The difficulty in this option comes when the team's running at 100% capacity building websites. When that happens, support requests start to back up. It makes it difficult, when trying to sell support, to give clear and achievable turnaround times to potential clients.

The other problem here is that, whilst building and supporting websites share some common required skills, there are clear differences. For example, when building a site you'll (hopefully…!) come across a lot less weird fiddly issues ("white screen of death every now and then", "uploading files to WordPress gives me an http error" and the like). Fixing these requires a broad range of skills that just aren't necessary when you just build WordPress websites.
How to Build a Successful In-House Team
It's totally possible to build a support team inhouse and have it flourish. You'll probably want to start off by leveraging an existing team, or doing it yourself, while you get this option financially viable.

To start with, you'll need a generalist WordPress developer/designer. Ideally, you'll want someone who has a track record of working with existing sites and diagnosing/resolving issues. This will be employee one of your support team (and, eventually, probably the head of your support team as it grows).

As time goes on, you'll probably add some more specialist team members. Your next hire's probably going to be a developer (to sort those really tricky issues out) and you might consider any of the following disciplines later on down the line

Designer
Systems administrator
Security/Cyber security expert
Just make sure your team grows as your monthly recurring revenue does, otherwise you'll always run at a loss. This probably means a few months of struggling to keep up from time to time (but don't let that run too long otherwise you'll start to lose customers).

Improving Your Operations
It's important that when you're working to a monthly budget, you're mindful of any areas of your operations you can optimise or reduce the cost of. This in turn leaves you with more profit and therefore a greater ability to service your client's needs. The following is a list of some areas that you can often automate to improve your process:

Charging – consider using an automated process to charge your customers. Stripe has excellent facilities to do this, but you can also use software in your website to do this (such as Woocommerce Subscriptions)
Invoicing – When you've got a larger number of clients, the invoicing will become tedious at best (and costly at worst!). Make sure you have an automated process of invoicing your clients on a monthly basis. Most accountancy software includes some way of automatically invoicing on a regular basis
Onboarding – When your client first signs up, it's a good idea to have a process of both doing all the things you need to do to get their site set up (backups, security, speed optimisation etc) and communicating to them during that process what's happening. If you can develop and checklist for your team, and a set of automated emails to send to your clients during this period, you'll take a lot of work off your hands and make everyone happier
Logging issues – Your client needs to be clear on how they can log issues, and internally you need to be clear on what to do with them! Consider a checklist internally for how to deal with requests, and include in your onboarding emails how your client should log their requests
Cancellation – All relationships have a beginning, a middle and unfortunately an end. There will be things you need to do when a client cancels their support; consider creating a checklist and maybe even a couple of automated farewell emails
How to Outsource WordPress Support.
Having looked at the options for supporting your clients using an in house team, it's time to discuss the benefits of the outsourcing model of WordPress support.
Outsourcing WordPress Support Whilst Managing It Internally
In this set up, you bring in a WordPress support partner to deliver the service but all support requests come through someone in-house. This is what I'd consider to be the best option, because you own the client relationship and maintain a level of experience consistent with the rest of your brand.

Typically, you'll pay a white label wordpress support company a fee per account. When you bring on a new account, your account manager will open a new support account for that client. You'll need to manage the onboarding of that client, then manage their ongoing requests.
You'll be offering the account management to the client whilst also managing an external team to provide support. This can have its drawbacks, but on balance if you choose a good partner and manage them well you should be able to weather any difficulties.

The benefit of this arrangement is that each support contract has a fixed cost. You know exactly how much it costs you to add a new support contract. It should also be scalable, allowing you to sell as many contracts as you want to without a degradation of service (something that's not possible with the in-house model).
Fully Outsourcing Word Press Support (White Label WordPress Support)
A slightly easier option is to white label your support. Here, you bring clients in and bill them and you then open a support account with a partner company who provide the support service. Generally, this is billed on a per-account basis and you'll pick what level of support you need to pay for on each customer's account.

There are many white label WordPress support companies out there. Each will differ slightly on how they bill you, their turnaround times, their expertise levels and the quality of the experience your customer gets. Your job here is to bring on a white label wordpress support agency that's going to give your clients a great service whilst also maintaining a consistency with your brand.

Make sure you've got some kind of oversight of what's going on here. If you can't see support requests, it'll be a struggle when things go wrong to see what's happening. Your client will expect you to know what's going on with their account within your agency, so don't let that expertise be managed away from you.
Summary / Conclusions
We've explored all the considerations when first looking to develop your wordpress support offering; from why to do it, right the way through to implementing your team. We've laid out how to sell it to your clients, how to optimise your operations for profit and how to bootstrap your support offering from your development and design work. Ultimately, adding your new support offering will take time to get right, but it'll be worth it for that monthly recurring revenue.

Want to talk to someone who's already done it, or get the ball rolling? You're totally welcome to ask me.

Rich Mehta is the CEO and founder of Rigorous Digital. Rigorous works with clients in longer term partnerships providing both bespoke web design services and ongoing support.